Bush assured the gathering of the American Jewish Committee, celebrating its 100th anniversary with a gala dinner, that he will take the lead in the effort to ensure that Iran doesn't develop a nuclear weapon. "We will continue to press the Iranian government to comply with IAEA [International Atomic Energy Agency] as well as UN Security Council resolutions," he said.
Merkel, the first German chancellor to address an annual meeting of the prominent Jewish-American association, supported Bush's stand on Iran. "It must not be permitted that Iran gets possession of nuclear weapons," she said. "We need to stand together."
The pledges from the U.S. and German leaders were a response to Iranian President Mahmud Ahmadinejad's call for the Jewish state to be "wiped off the map."
"Nobody can call into question Israel's right to exist," Merkel said, "Therefore for any German government it is unacceptable when the Iranian president questions this very right."
Security Council Deadlock
Britain and France, along with Germany and with U.S. support, submitted a draft resolution to the UN Security Council on May 3 that calls on Iran to immediately suspend all uranium-enrichment activities.
Representatives of the five permanent members of the UN Security Council -- China, France, Great Britain, Russia and the United States -- are holding regular talks in New York in an effort to find a unified position on the crisis.
Merkel said that the Western powers must work closely with Moscow to solve the Iran nuclear crisis through diplomatic means. "And if we are of the opinion -- and I am of the opinion -- that international conflicts should be resolved by diplomatic means, then it will not be possible to do it against or without Russia," she said. "That means we have to talk to Russia -- for example now, in the case of Iran -- about how we are going to set up diplomatic steps."
Russia and China have repeatedly said the Iran crisis must be solved only through negotiations with Tehran. Washington has taken a harder line, refusing to rule out other options including sanctions or even military action.
United Against Dictators, Terrorism
But the U.S. and German leaders did not only focus on Iran in their remarks to the gathering. Merkel used the occasion to note that -- despite differences over Iraq -- Berlin and Washington share many common foreign-policy objectives, including speaking out against dictatorships.
"First of all, we have learned the lessons of the Iraq conflict," she said. "One of those lessons is that a split response does not benefit the European Union. It divides us and, in the end, weakens Europe. And I feel that we should not leave dictatorships with the impression that the democratic world is divided over its response to them."
Both leaders reiterated their refusal to deal with Hamas-led Palestinian government until it recognizes Israel's right to exist.
"Hamas has made it clear that they do not acknowledge the right of Israel to exist, and I made it clear that so long as that's their policy we will have no contact with the leaders of Hamas," Bush said. "Democratically elected leaders cannot have one foot in the camp of democracy and one foot in the camp of terror."
During the evening, Merkel also took time to underline the historic nature of the appearance of a German leader before the American Jewish Committee.
"I know that this is anything but a matter of course for a chancellor of the Federal Republic of Germany to be invited to address you here tonight," she said. "In only a few days from today, next Monday, on May 8, 61 years ago the Second World War ended and the world was liberated from the reign of terror imposed by national socialism."
The audience at the gathering included some 2,500 Jewish leaders, U.S. politicians, and diplomats.
What Would Sanctions Mean?
What Would Sanctions Mean?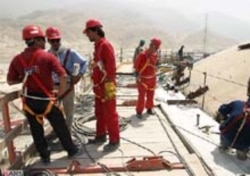 Economic sanctions could further undermine Iran's already shaky economy (Fars)


MOVING TOWARD SANCTIONS: If the United Nations Security Council imposes sanctions on Iran, domestic support for Iranian President Mahmud Ahmadinejad will wane, according to ALEX VATANKA, Eurasia editor for Jane's Information Group.
Vatanka told a February 24 RFE/RL briefing that "economic sanctions will hurt the average Iranian" and, consequently, many "will blame the ruling clerics" for making life difficult and "impairing the country's long term development."
Vatanka said sanctions would be a serious challenge to the Iranian government. If harsh economic sanctions were imposed, Iran's poorest population will be hurt the hardest -- and might react "as they did in the 1970s and protest in the streets." Sanctions on travel, Vatanka said, would hurt a many Iranians because "Iran is a nation of small traders" who depend on the ability to travel to earn an income. According to Vatanka, unemployment in Iran is estimated at 30 percent, "so small trading is essential to survival." Although current U.S. sanctions "haven't worked," he said, "Iranians fear an oil embargo." He stressed that "oil revenues are a major part of the economy, so it is critical to look at this sector."
Should negotiations with the European Union and the UN fail, Vatanka believes that Iran would follow a "North Korea model," since Ahmadinejad's base of support among the "Islamist militias" has been "urging withdrawal from the NPT [Nuclear Non-Proliferation Treaty]." The Iranian government's "tactic" so far, Vatanka said, is governed by the belief that "by shouting the loudest, you'll get concessions [from the West]."
LISTEN
Listen to the complete panel discussion (about 60 minutes):

Real Audio
Windows Media

THE COMPLETE STORY: RFE/RL's coverage of the controversy surrounding Iran's nuclear program.
CHRONOLOGY
An annotated timeline of Iran's nuclear program.