Iraqi police said the helicopter crashed into a house in a residential area. Police said the helicopter may have been hit by a rocket, but that report has not been confirmed.
Britain's Defense Ministry confirmed that there were casualties, but did not say how many.
(AP, Reuters)
Sectarian Iraq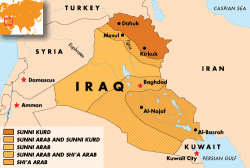 Click to enlarge the image.
SUNNI, SHI'A: Iraq is riven along sectarian lines, faults that frequently produce violent clashes and are a constant source of tension. Sectarian concerns drive much of Iraqi politics and are the main threat to the country's fragile security environment.


THE COMPLETE PICTURE: Click on the image to view RFE/RL's complete coverage of events in Iraq and that country's ongoing transition.