Iraqi police and British officers say militants threw stones and Molotov cocktails at British troops that rushed to the scene. Two of the Iraqi dead were children.
Police said the four-member helicopter crew was killed in the crash.
British Defense Minister Des Browne said only that "a number" had died. He refused to comment on reports that a rocket brought the chopper down.
Elsewhere, a suicide bomber killed three Iraqi officers at a military base in Al-Tikrit.

And two children were killed and one woman was wounded after rockets were fired in northern Baghdad.
(compiled from agency reports)
Sectarian Iraq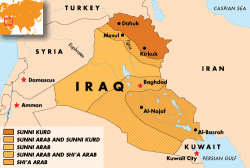 Click to enlarge the image.
SUNNI, SHI'A: Iraq is riven along sectarian lines, faults that frequently produce violent clashes and are a constant source of tension. Sectarian concerns drive much of Iraqi politics and are the main threat to the country's fragile security environment.


THE COMPLETE PICTURE: Click on the image to view RFE/RL's complete coverage of events in Iraq and that country's ongoing transition.