Five people, including at least one child, were reported killed when shooting broke out after members of a crowd used stones and petrol bombs to attack British ground forces who arrived at the site of the crash on May 6.
Iraqi police said four British personnel were killed when the helicopter was brought down, apparently by a missile.
Britain's Defense Ministry has acknowledged "casualties" in the crash, but declined to give a precise figure or discuss the cause of the downing.
(AP, AFP)
Sectarian Iraq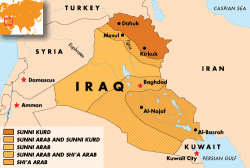 Click to enlarge the image.
SUNNI, SHI'A: Iraq is riven along sectarian lines, faults that frequently produce violent clashes and are a constant source of tension. Sectarian concerns drive much of Iraqi politics and are the main threat to the country's fragile security environment.


THE COMPLETE PICTURE: Click on the image to view RFE/RL's complete coverage of events in Iraq and that country's ongoing transition.