Gazprom Value Soars, Becomes World's Third-Biggest Company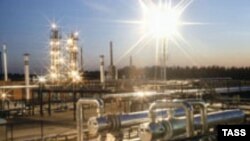 Myldzhinsky gas-condensate storage facility belonging to Vostokgazprom, a subsidiary of Gazprom (ITAR-TASS) May 7, 2006 -- The market value of the Russian state-run gas giant Gazprom has soared to more than $300 billion, making Gazprom the world's third-largest company.
The value of Gazprom shares passed the $300 billion threshold during trading on May 6 on the Moscow stock market.
Only the U.S. oil company ExxonMobil and General Electric now have a higher market capitalization than Gazprom.
(AFP, bloomberg.com)