Annan Calls Darfur 'World's Worst Humanitarian Crisis'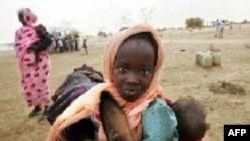 An agreement last week between the Sudanese government and main rebel group may soon end the fighting in Darfur (file photo) (AFP) May 9, 2006 -- UN Secretary-General Kofi Annan today called for urgent action on what he described as "the world's worst humanitarian crisis" happening in Sudan's Darfur region."
"Right now, the [Darfur] region is facing the world's worst humanitarian crisis," Annan said. "Without massive and immediate support, the humanitarian agencies will be unable to continue their work, which means that hundreds of thousands more will die from hunger, malnutrition, and disease."
U.S. President George W. Bush has already asked the U.S. Congress to speed approval for some $225 million in food aid to Sudan.
U.S. Secretary of State Condoleezza Rice is expected to call for the rapid deployment of UN peacekeepers in Sudan when she addresses the UN Security Council today.
Tens of thousands of people have died and more than 2 million have been left homeless since the conflict in Darfur began three years ago.
Last week, the Sudanese government signed a peace agreement with Darfur rebels in a bid to end fighting in the region.
(compiled from agency reports)