KARA-SUU, Kyrgyzstan; May 12, 2006 (RFE/RL) -- It is a spring day, and the bazaar at Kara-Suu is alive with activity. Pedestrians and cars jostle for right of way on narrow, poorly maintained roads. The center of the action is a pedestrian bridge, where people with heavy loads on their backs make their way past the flag of Kyrgyzstan into Uzbekistan. Soon, those same people return unburdened -- and ready to hoist more boxes and bundles onto their backs to take them into Uzbekistan.

In May 2005, hundreds -- some suggest thousands -- of Uzbek refugees streamed across the border to Kyrgyzstan to flee violence in and around Andijon.

Hundreds of Uzbeks continue to arrive. But now they appear to be seeking work, not refuge.
Bustling Trade

Locals say the economic situation in Kara-Suu has improved in the wake of the Andijon tragedy. They cited a mini-boom in trade that might never have happened if it weren't for makeshift bridges constructed by desperate people fleeing Uzbekistan.

One woman credited the one illegally built bridge that authorities left standing with providing a lifeline for jobs and families separated from their loved ones.

"The best thing is that they opened this bridge," she said. "A lot of people earn money this way [and] they're happy. They earn enough from this work. Those who work here don't complain. It's good here. Everything has gotten better. There are many people who have relatives in Uzbekistan and Kyrgyzstan, and by opening this crossing it helps them [to see one another]."
...But A Dark History
The irony is not lost on locals that many of those who created such opportunities were also targeted by Uzbek authorities.

"A lot of [Muslim] brothers died," one local said. "Those people who opened this bridge were put in jail. They are also victims. I'm truly sorry, and in my heart there is grief and frustration."

One Uzbek woman expressed her anger at Uzbek President Islam Karimov for what happened in Andijon and what happened to those who later built such bridges. She also questioned the shiny gloss that many of her fellow Uzbeks were putting on commerce in Kara-Suu.


"I can say that I'm not afraid of Karimov; I'll say it openly," she said. "The people who built this bridge were put in jail, and people here are able to work because of their labors. They should let them out of jail. Those people should be here, creating conditions for us to work. We are here as beggars: We come asking for 1,000 [Uzbek] soms to carry goods back to Uzbekistan. When people say they're making 5,000 or 10,000 soms, they're lying. At most, they make 3,000-4,000 soms."
Poverty seems to be what is drawing so many Uzbek citizens to the crowded bazaar in Kara-Suu.
"There's no work in Uzbekistan, so we're trying to earn money here," one Uzbek woman said.
"I can't say there is no work in Uzbekistan; there is [work] in the cities," said one of the many boys carrying computer monitors, clothing, and boxes of produce into Uzbekistan. "But in the countryside, there's no work. Here [in Kyrgyzstan] there are a lot of people working -- I can't say how many, but there are a lot. They work to make a living."
Many of the Uzbeks who were engaged in hauling goods across Kara-Suu's bridge declined to be interviewed about life in Uzbekistan. Some who were prepared to talk about Andijon were quickly cautioned to keep silent by friends or others nearby -- a grim reminder of the roots of this now-bustling cross-border business.
(Elmurad Jusupaliev of RFE/RL's Uzbek Service contributed to this report.)
Andijon Refugees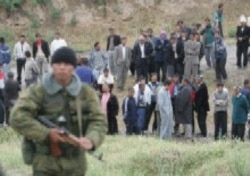 Uzbek refugees in Kyrgyzstan on May 19, 2005 (epa)


NO PLACE TO GO: More than 400 Uzbeks who fled in panic in the hours and days after troops opened fire on demonstrators in Andijon one year ago have been granted political asylum outside Central Asia. In limbo for weeks in Kyrgyzstan as they and the world tried to come to grips with the bloody events of May 12 and 13, they feared for their lives and the lives of family members as the official crackdown continued.... (more)
RELATED ARTICLES
Andijon Refugees In Romania Have Escaped Violence, But Not Heartache
Refugees In Romania Await Decision On Destination
Refugees Want To Return Only If Regime Changes


THE COMPLETE STORY: A dedicated webpage bringing together all of RFE/RL's coverage of the events in Andijon, Uzbekistan, in May 2005 and their continuing repercussions.
CHRONOLOGY
For an annotated timeline of the Andijon events and their repercussions, click here.