Uzbek-Kyrgyz Border Open As Calm Returns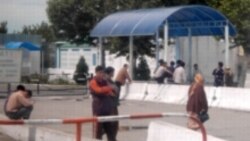 The Kyrgyz-Uzbek order was closed on 13 May Kara-suu, Kyrgyzstan; 15 May 2005 (RFE/RL) -- The border between Uzbekistan and Kyrgyzstan is reported open again today as the civil unrest in Uzbekistan appears to be subsiding.
[For more on this event, see RFE/RL's dedicated webpage: Unrest in Uzbekistan]
A correspondent from RFE/RL's Kyrgyz Service, Sultan Kanazarov, at the border town of Kara-suu/Karasu, says several thousand Uzbeks are at the reopened border, waiting to cross into Kyrgyzstan.
Uzbeks sacked government buildings and set police cars ablaze in Karasu yesterday, after Kyrgyz border guards stopped hundreds of Uzbeks from entering their country.
The Uzbeks were fleeing from violence the day before (13 May) in the Kyrgyz town of Andijon, in which troops fired on protesters, resulting in a heavy casualty toll. Uzbek authorities say about 30 died, but reporters say up to 500 may be dead.
No new violence is reported in Andijon or Kara-suu today.
RFE/RL correspondent Sadriddin Ashurov reports from Andijon that the center of town is now quiet.
"The main square where the protest rally took place on Friday is now under the control of the [government] military forces. The situation in Andijon is now under the firm control of the military forces," Ashurov reported.
See also:

Bloody Friday In The Ferghana Valley

Uzbek President Blames Islamist Group For Unrest

Protesters Charge Officials With Using Extremism Charges To Target Entrepreneurs

Analysis: Economic Concerns Primary In Andijon

Background: Banned Hizb ut-Tahrir Faces Dwindling Appeal, Internal Divisions

Interview: Opposition Leader Tells RFE/RL About 'Farmers' Revolution'