PRAGUE, May 11, 2006 (RFE/RL) -- Iran's president, Mahmud Ahmadinejad, is expected to try to enlist active support for Iran's controversial nuclear effort while he's in Bali.

The one-day meeting presents Ahmadinejad with a rare opportunity to appeal directly to fellow Muslim leaders at a time when Tehran is under intense international pressure to stop enriching uranium.
Tehran's Agenda

Ahmadinejad used a visit to Indonesia just before the summit to scorn the Western concern over Iran's nuclear program as "pretense."

"[The U.S. and its allies] pretend that they are concerned about the nuclear program of the Islamic Republic of Iran diverting [from peaceful uses]," Ahmadinejad said. "This is a big lie. I tell you that they are not at all concerned about the non-peaceful nuclear activities of any [country]."

Ahmadinejad appears to be trying to allay concerns about the seriousness of the opposition facing Iran over the nuclear question. In fact, at the United Nations, the United States, Britain, France, and Germany are busy trying to formulate a resolution that would legally bind Iran to end uranium enrichment or face possible sanctions or military intervention.

Analyst Glen Barclay, of the Australian National University in Canberra, says Iran's decision to attend the Bali summit at top level at such a difficult time indicates the importance Tehran attaches to its image abroad.

"[It's a] demonstration that Iran is a major country, it's an influential country, it's part of the international community, and [it] is prepared to work closely with, and cooperate with, countries which are prepared to recognize its undeniable right to develop nuclear energy -- at least for peaceful purposes," Barclay says.

But the summit provides an opportunity not only for Iran to influence others -- but also for others to influence Iran. Turkey, for instance, is a NATO member and a close ally of the United States, as well as an aspiring EU member. Prime Minister Recep Tayyip Erdogan is listed to attend the summit, and he can be expected to reflect a view more like that of the Western powers.

The director of the Foreign Policy Institute at Bilkent University in Ankara, Seyfi Tashan, takes up this point.

"Towards Iran, Turkey has made it perfectly clear that Turkey wants nuclear energy to be used for absolutely peaceful purposes and that Iran should provide absolute transparency and full cooperation with the International Atomic Energy Agency (IAEA)," Tashan says.

Growing D-8 Influence?

The D-8 group is diverse. Apart from NATO's Turkey, there is nuclear-armed Pakistan, oil-rich Nigeria and Iran, plus resource-poor members like Egypt and Bangladesh.

Analyst Barclay notes that the D-8 members collectively inhabit an area of the world that he believes will become the economic and political powerhouse of the 21st century.

"The major players in the world balance of power, from now until the foreseeable future, are going to be the great Asian nations," he says.


Barclay adds that Iran figures in this equation, too. Thanks to Iran's vast energy resources, he argues, China and India have no option but to keep their links with Tehran open, come what may.
Barclay says that the Asian states have less interest than the West in isolating Iran, whether through sanctions or political isolation. He says they recognize that President Ahmadinejad is "very much a loose cannon" and their inclination is to try to limit his scope for excess.
"Other regional leaders would be very interested in having Iran tied into stable international organizations," Barclay says.
Ahmadinejad continued undeterred with his intemperate rhetoric in Jakarta today, telling students that Israel is an "evil" that "will one day vanish." But he also said that he is ready to negotiate with any country to resolve the dispute over Iran's nuclear program.
What Would Sanctions Mean?
What Would Sanctions Mean?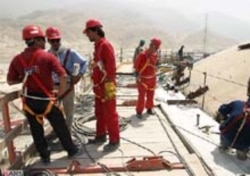 Economic sanctions could further undermine Iran's already shaky economy (Fars)


MOVING TOWARD SANCTIONS: If the United Nations Security Council imposes sanctions on Iran, domestic support for Iranian President Mahmud Ahmadinejad will wane, according to ALEX VATANKA, Eurasia editor for Jane's Information Group.
Vatanka told a February 24 RFE/RL briefing that "economic sanctions will hurt the average Iranian" and, consequently, many "will blame the ruling clerics" for making life difficult and "impairing the country's long term development."
Vatanka said sanctions would be a serious challenge to the Iranian government. If harsh economic sanctions were imposed, Iran's poorest population will be hurt the hardest -- and might react "as they did in the 1970s and protest in the streets." Sanctions on travel, Vatanka said, would hurt a many Iranians because "Iran is a nation of small traders" who depend on the ability to travel to earn an income. According to Vatanka, unemployment in Iran is estimated at 30 percent, "so small trading is essential to survival." Although current U.S. sanctions "haven't worked," he said, "Iranians fear an oil embargo." He stressed that "oil revenues are a major part of the economy, so it is critical to look at this sector."
Should negotiations with the European Union and the UN fail, Vatanka believes that Iran would follow a "North Korea model," since Ahmadinejad's base of support among the "Islamist militias" has been "urging withdrawal from the NPT [Nuclear Non-Proliferation Treaty]." The Iranian government's "tactic" so far, Vatanka said, is governed by the belief that "by shouting the loudest, you'll get concessions [from the West]."
LISTEN
Listen to the complete panel discussion (about 60 minutes):

Real Audio
Windows Media

THE COMPLETE STORY: RFE/RL's coverage of the controversy surrounding Iran's nuclear program.
CHRONOLOGY
An annotated timeline of Iran's nuclear program.