Kremlin Concerned At U.S. Missile Plan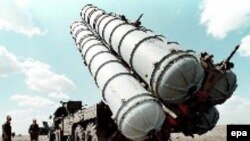 Russian air defense missiles (file photo) (epa) May 11, 2006 -- A top aide to President Vladimir Putin today said that Russia is concerned by reports that the United States plans to equip some intercontinental ballistic missiles with nonnuclear warheads.
Sergei Sobyanin's remarks echoed those made by Putin in his annual state of the nation address on May 10. Without naming the United States, Putin had said talk of an end to the arms race had proved "premature."
(AP, AFP)