WASHINGTON, May 11, 2006 (RFE/RL) – Could President Bush persuade such the U.S. Congress to give him the authority he'd need to make war on Iran?
He probably could, even if public support is lacking, according to William Hartung. Hartung studies war and the American presidency at the World Policy Institute, a private policy center in New York.
"I'm afraid he might [get Congressional approval]. If you look at some of the Democratic statements -- they're trying to look as tough as possible. If he [Bush] decided to act, I'm sure there'd be some critics, but I'm not sure it would be a majority of the Congress," Hartung said.
Equal Measure Of Support And Dissent Likely

Hartung says Congress is nearly evenly divided between Republicans and Democrats, and even many Republicans are trying to distance themselves somewhat from this increasingly unpopular president as they face reelection in six months.

Democrats, he said, are just as concerned about the coming elections as Republicans are. Over the past few years, polls show Americans believe Democrats are less adept than Republicans at military and other security matters.

As a result, Hartung expects that if Bush proposed attacking Iran, he probably would get vocal support from many Republicans, and vocal dissent from a few Democrats. The rest of the Democrats, he says, would, in his words, "self-censor themselves" for fear of appearing unpatriotic.
"He expended everything that he had on Iraq, and if he wants to go it a second time, he really will have to build his case," said Leon Fuerth, former National Security Council member.


Hartung describes Bush as a willful president, a leader who does what he feels he needs to do -- at least unless the political price is too great.

"Bush seems to be the kind of president who does what he wants," Hartung said. "Given that, I think he'd be willing to go ahead unless there was massive public opposition that would somehow hurt the Republicans in the midterm elections."

Hartung believes Bush probably would go out of his way to win the support of the United Nations for any strike against Iran. He says that after defying the UN Security Council by going to war in Iraq three years ago, the U.S. president has more recently been more cooperative with the world body.

Squandered Credibility

Leon Fuerth, a senior member of the White House's National Security Council during the presidency of Bill Clinton in the 1990s, agrees that Bush would feel the need for UN approval for any military action against Iran.
Fuerth told RFE/RL that he believes Bush has squandered his credibility with the public and with Congress, too. So he expects the president would court the Senate and the House of Representatives carefully to get their backing for any strike on Iran.
"[Bush will] need approval from everybody in sight to do so -- not because he doesn't claim the power, but [because] he's going to need the money," Fuerth said. "The Congress, I think, is not going to be in a mood to give it to him. He's going to even work the [UN] Security Council very hard because he needs the legitimacy that comes from this. He expended everything that he had on Iraq, and if he wants to go it [make war] a second time, he really will have to build his case."
But Fuerth says it would be a tough job for Bush to get the approval he needs both from Congress and the UN. Oddly, he says, the man who could most convincingly make the case for war against Iran is Iran's president, Mahmud Ahmadinejad. He points to provocative statements that Ahmadinejad has made frequently over the past few months.
"I don't think that there's anything that President Bush can do that would restore the kind of public credibility he had before the war in Iraq to the point where he could come back to the country and say, 'Now we have to go to war in Iran' -- unless the president of Iran continues to be creative and diligent in doing things that anger the entire international community, minus the two usual suspects, the Russians and the Chinese," said Fuerth.
A Cautious White House
Fuerth says there are so many potential targets that any operation against Iran would have to be big -- big enough to require prior approval from a Congress that may be too wary of war to grant it.
Such concerns may lead Bush to conclude that war might have more liabilities than benefits, according to Hartung. He cites concerns that such action could drive the Iranian nuclear program further underground, that it could lead Tehran to begin seeking nuclear weapons if it hasn't begun already, and that it could ruin U.S.-European relations.
In fact, Hartung believes there is a growing concern within the White House about acting unilaterally against Iran, and that Bush may actually limit his dealings with Tehran to diplomacy.
That, Hartung says, is the lesson learned -- the hard way -- from acting unilaterally against Iraq.
Ahmadinejad's Letter To Bush
Ahmadinejad's Letter To Bush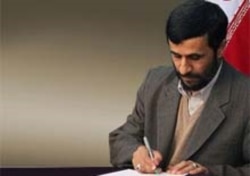 (Fars)


PRESIDENT TO PRESIDENT: On May 8, the Iranian government announced that President Mahmud Ahmadinejad had sent a letter to U.S. President George W. Bush. The letter was the first direct communication between leaders of the two countries since Iran's 1979 Islamic Revolution. RFE/RL has posted the English version of Ahmadinejad's letter that was posted on the Iranian president's website.
"The people will scrutinize our presidencies," AHMADINEJAD wrote. "Did we manage to bring peace, security, and prosperity to our people or insecurity and unemployment? Did we intend to establish justice, or just support special-interest groups and -- by forcing many people to live in poverty and hardship -- make a few people rich and powerful, -- thus trading the approval of the people and the Almighty for [that of those few]? Did we bring the world peace and security or did we raise the specter of intimidation and threats?"...(more)
ARCHIVE
For an archive of RFE/RL's coverage of Iran, click here.


THE COMPLETE PICTURE: RFE/RL's complete coverage of controversy surrounding Iran's nuclear program.
CHRONOLOGY
An annotated timeline of Iran's nuclear program.