Many in Armenia believe the crash -- the worst in Armenia's history, with 113 deaths -- was the result of poor recommendations by Russian air-traffic controllers. But such claims may only be the cover for deeper concerns about the impending advance of the Russian gas giant Gazprom and growing racism in Russia directed in part at natives of the Caucasus.
Hmayak Hovhanisian, the chairman of the Armenian Association of Political Scientists, says it is too early to tell if the controversy will have a lasting impact on relations between the two countries.
"It depends on how the investigation proceeds," he notes. "If the black boxes aren't recovered and the real causes of the disaster aren't explained in a way that is clear for everyone, it will have a negative effect on Russian-Armenian relations."
Investigation Ongoing
Recovery work is continuing following the May 3 crash of the Armenian Airbus A320. So far divers have located fewer than half of the 113 victims, the vast majority of whom were Armenians.
The concurrent investigation into the crash is ongoing as well, under the joint supervision of Russian Transport Minister Igor Levitin and Armenian Defense Minister Serzh Sarkisian.
But so far few clues have been revealed about the probable cause of the crash. Without the black-box flight recorders, investigators lack critical information about the flight crew's actions in the moments before the plane nose-dived into the Black Sea off the Sochi coast.
The lack of information has angered Armenians, who believe the pilot may have crashed after being told by Russian air-traffic controllers to resume preparation for landing despite poor weather conditions. Georgian air officials had earlier recommended the plane turn back.
Armenians Suspicious Of Russia's Role

While observers like Hovhanisian note that the responsibility for final decisions ultimately rests with the pilot, and not the air-traffic controllers, many Armenians -- including those in the political opposition -- are concerned by Russia's role in the crash. They have also expressed doubt that an investigation led in part by Russia will be fully honest.
Russia and Armenia have long enjoyed strong strategic ties. Russia maintains a military base on Armenian soil, and the two countries are partner to a landmark treaty in which Moscow has committed itself to defend Armenia militarily in the event it is attacked from outside -- an apparent reference to its historic enemy, Turkey.
It has also helped to prevent further outbreaks of violence between Armenia and Azerbaijan over the Nagorno-Karabakh enclave.
Armenia has also remained a loyal member of both the Commonwealth of Independent States (CIS) and the CIS Collective Security Treaty. This is something that sets Armenia apart from its disgruntled South Caucasus neighbor Georgia, which has tense relations with Moscow and has threatened to withdraw from the CIS.
But many Armenians remain resentful of Russia. This is due in part to what is viewed as mounting racism in Russia. Skinheads were believed to be behind the killing in April of a 17-year-old Armenian in Moscow.
Energy Worries
Many Armenians also accuse Russia of seeking to monopolize the country's energy industry. Eduard Aghajanov, an independent political analyst in Yerevan, says Russia is not treating Armenia like an equal partner.
"Many already don't believe that [Russia] is a ally, because the way Russia deals with Armenia in its foreign policy is not the way a strategic partner would behave," Aghajanov says. "It's the way it would treat a vassal."
Armenia recently agreed to hand over a portion of its state energy assets to Russia's state-run gas giant Gazprom, in order to prevent a threat to double gas prices. Gazprom has raised natural-gas prices for nearly all of its CIS clients this year, but Armenia, due to its compliance, saw a hike of just 10 percent.
Gazprom is now set to assume control of a major Armenian power plant, and may also obtain a controlling share of a planned Armenian-Iranian gas pipeline. The deal is expected to give Moscow near-total control over the Armenian energy sector.
Observers in Russia are more sanguine about the deal. Boris Makarenko, deputy director of the Moscow-based Center for Political Technologies, says Gazprom's policy in Armenia is no different than those in other countries.
Makarenko says anti-Russian sentiment has recently become more "fashionable" in Yerevan. But on the whole, he adds, relations between Moscow and Yerevan can be held up as an ideal in the CIS neighborhood. "Speaking objectively, Russia has fewer problems in relations with Armenia than with any other post-Soviet state," he says.
Epidemic Of Hate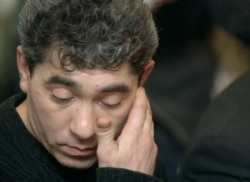 Yusuf Sultonov, whose 9-year-old daughter was beaten and stabbed to death in St. Petersburg on February 9, 2004 (TASS)

EXTREMISM ASCENDANT: More than half of Russians have xenophobic views, according to a report published in August 2005. In the report, rights groups say that -- despite progress in some areas -- racism, xenophobia, and anti-Semitism remain rife in Russia. But what worries watchdogs most are recent moves by nationalist-patriotic movements to form paramilitary groups....(more)
RELATED ARTICLES
A Timeline Of Recent Racial Incidents
Russian Ombudsman Condemns Hate Crimes
Hate Crime Trial Highlights Mounting Racism
Minister Says Russia Can't Stop Xenophobia Alone
For African Students In Russia, Affordable Education Comes At A Price
ARCHIVE
To view an archive of all of RFE/RL's coverage of Russia, click here.

SUBSCRIBE
For a regular review of civil-society developments throughout RFE/RL's broadcast region, subscribe to "RFE/RL (Un)Civil Societies."


RFE/RL IN RUSSIAN: Visit RFE/RL's Russian-language website, featuring news, analysis, features, streaming audio, and more in Russian, courtesy of RFE/RL's Russian Service.