PRAGUE, April 6, 2006 (RFE/RL) -- On the eve of the Oskanian's visit, the Russian Foreign Ministry reminded Yerevan and Baku that they must find a "mutually acceptable solution" to their 18-year dispute over Nagorno-Karabakh.
In comments made on April 4, Foreign Ministry spokesman Mikhail Kamynin said Moscow "favors the continuation of Armenian-Azerbaijani dialogue, first of all between both countries' presidents."
Face To Face
Robert Kocharian of Armenia and Ilham Aliyev of Azerbaijan last met in February in Rambouillet, near Paris.
Their meeting was initially viewed as a positive step by France, the United States, and Russia -- the co-chairs of the Minsk Group of nations that mediates in the conflict on behalf of the Organization for Security and Cooperation in Europe.
But although the summit extended over two days, the talks lasted just over six hours and ended inconclusively. And statements made by the Azerbaijani president in the wake of the head-to-head meeting have fuelled speculation that the negotiation process reached a new stalemate.
International mediators insist the failure of the Rambouillet summit does not mean that the peace process is at a deadlock.
Addressing an Azeri world congress in Baku on March 16, Aliyev threatened to withdraw from the peace talks unless -- as he put it -- Armenia stops "dragging its feet."
"We have been holding peace talks for the last 12 years," Aliyev said. "For 12 years, we've had a cease-fire regime and held talks with the hope that they would bear fruit. But, how long is it going to last? This process cannot last forever. The patience of the Azerbaijani people and of the Azerbaijani government is running out."
Bold Statements
Aliyev also told the congress that Azerbaijan's annual defense spending, which currently stands at $600 million, would continue to increase until it matches Armenia's entire state budget.
Aliyev and his late father, who rules post-Soviet Azerbaijan for a decade, have made such statements in the past, threatening to forcibly recapture all territories that have been occupied by ethnic Armenian forces since 1993 if diplomacy fails.
International mediators insist the failure of the Rambouillet summit does not mean that the peace process is at a deadlock. However, as Russian Minsk Group co-chairman Yury Merzlyakov says, the clock is ticking for the sides to strike a compromise.
"It is pretty unusual that the peace process should not be influenced by elections. A new election cycle is expected to start in 2007 and it will last approximately three years," Merzlyakov said. "In other words, there will be elections in one or the other country [during that period]. We know by experience that any election slows down the peace process as it happened in 2003 [when there were presidential polls in Azerbaijan]. Sometimes, it even brings it to a halt for quite some time."
Serious Consequences
In comments made to RFE/RL's Azerbaijani Service in the wake of the Rambouillet summit, Merzlyakov's U.S. counterpart was even more candid. According to Steven Mann, failure to reach an agreement this year would have most serious consequences.
"There has been so much positive work that has been done in the past two years," Mann said. "The window is right and necessary to reach an agreement. So it will be a true tragedy if the sides do not take advantage of this opportunity."
The inconclusiveness of the Rambouillet talks has triggered renewed Karabakh-related diplomatic activity.
The Minsk Group co-chairs met twice last month -- in Washington and in Istanbul -- to assess the outcome of the summit. Both Oskanian and Azerbaijan's Deputy Foreign Minister Araz Azimov held separate consultations with U.S. officials in Washington.
Azerbaijani Foreign Minister Elmar Mammadyarov is expected in the U.S. capital within days for talks that could pave the way for Aliyev's visit later this month.
Room For Success
Yet, Merzlyakov makes it clear no breakthrough is possible without the two presidents being personally involved.
"Everything depends on both objective reasons and subjective factors," Merzlyakov said. "It looks like all objective conditions [for a breakthrough] are here. But we have to take into account the subjective aspects of the issue, which are the [political] will of both parties and their readiness to prepare their public opinions with a view to solving this conflict peacefully. With this respect there is still a lot or work to be done."
In the Russian ambassador's words, the best way to give the peace process a new impetus would be for the Armenian and Azerbaijani presidents to meet face to face again. But he says this prospect looks rather slim at the moment.
"We must now find opportunities to revive the process, including [through] contacts between the co-chairs and the presidents and [through] new meetings -- rather a new meeting -- between the two presidents so that they could continue discussing," Merzlyakov said. "But we're now in a rather delicate phase and we haven't even started discussing [that possibility]. It's even difficult to talk to the parties about that because there is no international meeting scheduled [in the near future] that both two presidents could attend."
As for the prospect of Kocharian and Aliyev holding a new summit, the Russian envoy makes it clear international mediators would rather concentrate their efforts on keeping the peace process alive through shuttle diplomacy and separate talks with the presidents.
"After Rambouillet, perhaps we should reverse to the old system," Merzlyakov said.
(RFE/RL's Azerbaijani Service correspondent Kenan Aliyev contributed to this report)
The Nagorno-Karabakh Conflict
The Nagorno-Karabakh Conflict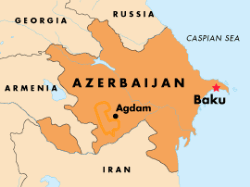 Click on the image to view an enlarged map of the Nagorno-Karabakh conflict zone

In February 1988, the local assembly in Stepanakert, the local capital of the Azerbaijani region of NAGORNO-KARABAKH, passed a resolution calling for unification of the predominantly ethnic-Armenian region with Armenia. There were reports of violence against local Azeris, followed by attacks against Armenians in the Azerbaijani city of Sumgait. In 1991-92, Azerbaijani forces launched an offensive against separatist forces in Nagorno-Karabakh, but the Armenians counterattacked and by 1993-94 had seized almost all of the region, as well as vast areas around it. About 600,000 Azeris were displaced and as many as 25,000 people were killed before a Russian-brokered cease-fire was imposed in May 1994.
CHRONOLOGY: For an annotated timeline of the fighting around Nagorno-Karabakh in 1988-94 and the long search for a permanent settlement to the conflict, click here.

Click on the icon to view images of the Nagorno-Karabakh conflict (Flash required)
To view an archive of all of RFE/RL's coverage of Nagorno-Karabakh,
click here.