At a joint press conference in Baku today with Azerbaijani President Ilham Aliyev, Putin said he plans to invite Armenian President Robert Kocharian to Moscow for discussions.
Kocharian and Aliyev failed to make progress on resolving the dispute over the mainly ethnic-Armenian enclave within Azerbaijan during talks in France earlier this month.
Putin said Russia would not take sides in the Karabakh conflict and slammed critics who accuse Moscow of tacitly seeking to prolong conflicts in former Soviet republics.
"Russia is in fact extremely interested in resolving all conflicts in the post-Soviet area. Those who say it's not true have been misled or are trying to mislead the people in our countries," he said.
Also today, Putin and Aliyev signed a joint declaration that said military-technical cooperation is an important part of the two countries' strategic partnership.
(AP, AFP, ITAR-TASS, Interfax)
The Nagorno-Karabakh Conflict
The Nagorno-Karabakh Conflict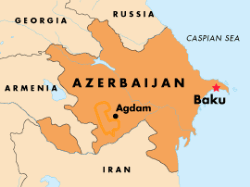 Click on the image to view an enlarged map of the Nagorno-Karabakh conflict zone

In February 1988, the local assembly in Stepanakert, the local capital of the Azerbaijani region of NAGORNO-KARABAKH, passed a resolution calling for unification of the predominantly ethnic-Armenian region with Armenia. There were reports of violence against local Azeris, followed by attacks against Armenians in the Azerbaijani city of Sumgait. In 1991-92, Azerbaijani forces launched an offensive against separatist forces in Nagorno-Karabakh, but the Armenians counterattacked and by 1993-94 had seized almost all of the region, as well as vast areas around it. About 600,000 Azeris were displaced and as many as 25,000 people were killed before a Russian-brokered cease-fire was imposed in May 1994.
CHRONOLOGY: For an annotated timeline of the fighting around Nagorno-Karabakh in 1988-94 and the long search for a permanent settlement to the conflict, click here.

Click on the icon to view images of the Nagorno-Karabakh conflict (Flash required)
To view an archive of all of RFE/RL's coverage of Nagorno-Karabakh,
click here.