PRAGUE, 21 February 2006 (RFE/RL) -- Vladimir Putin flies into Azerbaijan today, confident that relations with Azerbaijan have shown signs of picking up.
Trade has never been so good, topping $1 billion last year for the first time. He will be hopeful, too, of finding common ground with President Ilham Aliyev, who was stung by Western criticism of the conduct of the November 2005 parliamentary elections. Putin, however, congratulated Aliyev on the outcome.
This optimism is all in marked contrast to Moscow's approach to Georgia, which the Kremlin and the Russian media continue to depict as incorrigibly pro-Western and aggressively anti-Russian.
That, on one level, appears somewhat contradictory. Azerbaijan has been at least as pro-Western as Georgia in the last decade and has certainly done more than Georgia to break Moscow's geostrategic grip on the region. The Baku-Tbilisi-Ceyhan oil pipeline, built with U.S. backing and soon to be followed by the Baku-Tbilisi-Erzerum gas pipeline, has vastly increased the economic independence of both Azerbaijan and Georgia.
Wiser With Experience?
How then to explain the rather more subtle approach of Russian diplomacy to Azerbaijan? Aleksandre Rondeli of the Georgian Foundation for Strategic and International Studies believes Moscow may have learnt lessons from its Georgian experience.
Azerbaijan still sees Russia as Armenia's ally in the dispute over the region of Nagorno-Karabakh.
"Such were the methods used by Russia against Georgia that right from the beginning they backed themselves into a corner," Rondeli says. "In fact, they used military methods: force and blackmail. And, as a consequence, they find they have no flexibility of action. And the main result is that they now have this hard, relentless opposition in the form of President [Mikheil] Saakashvili and his team."

In other words, the Kremlin has learnt from its Georgian mistake and is adopting a less hostile approach in its dealings with Azerbaijan.

That's certainly one explanation. Vafa Guluzade has another. Guluzade was foreign-policy adviser to Heydar Aliyev, the late president of Azerbaijan and father of Ilham Aliyev, and remains a close observer of Moscow's relations with the South Caucasus states.

"Georgia is much more independent from Russia than Azerbaijan because Georgia is saying the truth to Russia's face but we are not saying it," Guluzade says. "We [Azerbaijan] are not saying to Russia that 'you are occupying our territory, get out from our territory, it is not Armenia.' Georgia is fighting for its rights. We are not fighting for our rights. That's why Russia is very happy with us."

Seeing Through The Lens Of The Past

It's an explanation that suggests too the restrictions on any hope for improvement in Moscow's relations with Baku. The apparently insurmountable obstacle remains that Azerbaijan still sees Russia as Armenia's ally in the dispute over the region of Nagorno-Karabakh.


When Guluzade says Russia is occupying Azerbaijani territory, what he means is that, like many Azerbaijanis, he sees Armenia as a proxy of Russia in the region -- and Armenia is still occupying seven Azerbaijani regions surrounding Karabakh.
So for all the improvements in trade relations, Guluzade says Azerbaijan should remain wary of Russia. "Russia is able to offer Azerbaijan nothing because Russia doesn't want Azerbaijan to be strong, to be independent and to escape from occupation of its territory," he adds. "Russia is able to propose some support maybe in the liberation of one or two regions but the price is very big: it is the independence of Azerbaijan."
Which suggests that despite the growing refinement of Moscow's diplomacy towards Baku, its foreign policy in Azerbaijan, as in Georgia, remains the prisoner of decisions and policies adopted in the 1990s following the breakup of the Soviet Union. Rightly or wrongly, Azerbaijanis, like Georgians, see Russia as a former colonial power that has not yet abandoned its colonial instincts.
Putin would like Azerbaijan to accept Russian troops as peacekeepers in and around Karabakh in the event of a peace deal with Armenia. He's not likely to get much encouragement for that in Baku. Suspicions of Russia's support for Armenia aside, Azerbaijan will not want to repeat the Georgian experience in its breakaway regions of Abkhazia and South Ossetia, where Georgia accuses Russian peacekeepers of supporting the Abkhaz and Ossetians.
And despite all the improvements in Russia's trade with Azerbaijan, Aliyev will not want to do anything to undermine his burgeoning relationship with the West. Oil and gas are the twin props of Azerbaijani independence and they need Western markets.
The Nagorno-Karabakh Conflict
The Nagorno-Karabakh Conflict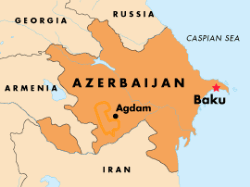 Click on the image to view an enlarged map of the Nagorno-Karabakh conflict zone

In February 1988, the local assembly in Stepanakert, the local capital of the Azerbaijani region of NAGORNO-KARABAKH, passed a resolution calling for unification of the predominantly ethnic-Armenian region with Armenia. There were reports of violence against local Azeris, followed by attacks against Armenians in the Azerbaijani city of Sumgait. In 1991-92, Azerbaijani forces launched an offensive against separatist forces in Nagorno-Karabakh, but the Armenians counterattacked and by 1993-94 had seized almost all of the region, as well as vast areas around it. About 600,000 Azeris were displaced and as many as 25,000 people were killed before a Russian-brokered cease-fire was imposed in May 1994.
CHRONOLOGY: For an annotated timeline of the fighting around Nagorno-Karabakh in 1988-94 and the long search for a permanent settlement to the conflict, click here.

Click on the icon to view images of the Nagorno-Karabakh conflict (Flash required)
To view an archive of all of RFE/RL's coverage of Nagorno-Karabakh,
click here.