Addressing a world congress of Azeris in Baku, Aliyev threatened to leave the negotiation table unless progress is reached in peace talks.
"We have been holding peace talks for the last 12 years. For 12 years, we've had a cease-fire and held talks with the hope that they would bear fruit," Aliyev said. "But how long is it going to last? This process cannot last forever and the patience of the Azerbaijani people and of the Azerbaijani government is running out."
Mediators mandated by the Organization for Security and Cooperation in Europe (OSCE) to help Armenia and Azerbaijan peacefully settle their dispute have expressed hope progress could be reached this year as neither country has an election planned any time soon.
A bilateral summit held near Paris last month yielded no results. But the U.S. assistant secretary for European and Eurasian affairs, Daniel Fried, said today in Yerevan he was confident discussions could continue.
The predominantly ethnic-Armenian enclave of Nagorno-Karabakh seceded from Soviet Azerbaijan in 1988, triggering hostilities that claimed some 35,000 lives and drove nearly one million people from their homes. Armenian troops have been occupying seven of Azerbaijan's administrative districts since the 1994 ceasefire agreement.
(RFE/RL's Armenian and Azerbaijani Services)

The Nagorno-Karabakh Conflict
The Nagorno-Karabakh Conflict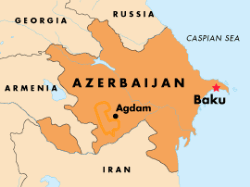 Click on the image to view an enlarged map of the Nagorno-Karabakh conflict zone

In February 1988, the local assembly in Stepanakert, the local capital of the Azerbaijani region of NAGORNO-KARABAKH, passed a resolution calling for unification of the predominantly ethnic-Armenian region with Armenia. There were reports of violence against local Azeris, followed by attacks against Armenians in the Azerbaijani city of Sumgait. In 1991-92, Azerbaijani forces launched an offensive against separatist forces in Nagorno-Karabakh, but the Armenians counterattacked and by 1993-94 had seized almost all of the region, as well as vast areas around it. About 600,000 Azeris were displaced and as many as 25,000 people were killed before a Russian-brokered cease-fire was imposed in May 1994.
CHRONOLOGY: For an annotated timeline of the fighting around Nagorno-Karabakh in 1988-94 and the long search for a permanent settlement to the conflict, click here.

Click on the icon to view images of the Nagorno-Karabakh conflict (Flash required)
To view an archive of all of RFE/RL's coverage of Nagorno-Karabakh,
click here.