Manuchehr Mottaki made the statement on the sidelines of a summit in Bali that he is attending with Iranian President Mahmud Ahmadinejad.
Mottaki said Iran will provide its "utmost cooperation" if the international community recognizes Iran's right to a peaceful nuclear program.
European diplomats are currently working on a package of incentives to persuade Iran to halt uranium enrichment.
The standoff over Iran is dominating sideline discussions at today's summit of the Developing Eight (D-8) on the Indonesian island of Bali.
The main summit discussions are expected to focus on trade issues. The summit brings together leaders from Indonesia, Pakistan, Iran, Nigeria, Turkey, Malaysia, Egypt, and Bangladesh.
(AFP, dpa)
What The Street Thinks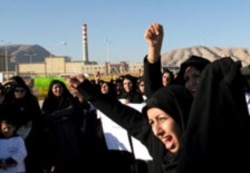 A demonstration in support of Iran's nuclear program outside the Isfahan uranium-conversion facility in Isfahan in January (epa)

IRANIANS SPEAK OUT ON THE DISPUTE: To find out more about what Iranians think about the international controversy over their country's nuclear program, RADIO FARDA asked listeners to express their views....(more)
See also:
Iran: Public Has Mixed Feelings On Nuclear Issue

THE COMPLETE PICTURE: RFE/RL's complete coverage of controversy surrounding Iran's nuclear program.
CHRONOLOGY
An annotated timeline of Iran's nuclear program.