In the deadliest attack, two suicide bombers blew their cars up near the main checkpoint leading to Baghdad's international airport, killing 14 people.
Another bombing, which hit the city's central Palestine Street, killed five people.
Today's violence follows the bombing of several small Shi'ite shrines near the city of Ba'qubah on May 13. No one was hurt in the attacks, which seriously damaged the Abdullah bin Ali shrine and the Tamim shrine.
Sunnis and Shi'a live in the Ba'qubah area where sectarian tensions are already running high.
(AP, AFP, Reuters)
Sectarian Iraq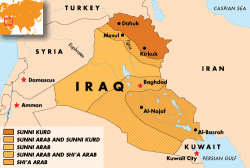 Click to enlarge the image.
SUNNI, SHI'A: Iraq is riven along sectarian lines, faults that frequently produce violent clashes and are a constant source of tension. Sectarian concerns drive much of Iraqi politics and are the main threat to the country's fragile security environment.


THE COMPLETE PICTURE: Click on the image to view RFE/RL's complete coverage of events in Iraq and that country's ongoing transition.