Belarusian Oppositionist Freed From Prison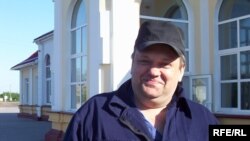 Valery Levaneuski after his release from prison (RFE/RL) May 15, 2006 -- A Belarusian businessman and opponent of President Alyaksandr Lukashenka was freed from prison today after spending two years behind bars.
Valery Levaneuski was sentenced in September 2004 for "publicly causing offense to the president" by producing leaflets that suggested Lukashenka had misused public funds to pay for a skiing holiday in Austria.
While in prison, Levaneuski staged a series of hunger strikes and spent long periods of time in solitary confinement.
He was transferred today from a prison in the southwest region of Brest to the western town of Slonim, where he was left at the train station without any money or a ticket.
(charter97.org, AFP)


Click on the image to view a dedicated page with news, analysis, and background information about the Belarusian presidential ballot.
MEET THE CANDIDATES: Read brief biographies of the four candidates in the March 19 election.


Click on the image to view RFE/RL's coverage of the election campaign in Belarusian and to listen to RFE/RL's Belarusian Service.