PRAGUE, May 16, 2006 (RFE/RL) -- Kyrgyz President Kurmanbek Bakiev reshuffled his government and personel administration on May 10, removing from office or accepting the resignation of a number of high-ranking officials.
Among them were National Security Minister Tashtemir Aitbaev and State Secretary Dastan Sarygulov.
"We cannot afford to let big criminals, killers, or terrorists, go. On the other hand, if they are innocent, why should we keep them? Then we will [let them go]."
Aitbaev did not publicly give reasons for his resignation. But in a letter published by the Kyrgyz media, Sarygulov said he was stepping down in a bid to help perserve stability in the country.
Law And Order
Last month, Sarygulov had publicly backed opposition demands that an end be put to rampant crime and corruption. Yet he dismissed opposition claims that President Bakiev had not lived up to the hope the people invested in him following the downfall last year of President Askar Akaev. Sarygulov said that restoring law and order is just a matter of time.
Presidential spokesman Nadyr Momunov insisted last week that Bakiev's decision to reshuffle his administration should not be viewed as a sign a weakness. Rather, he said, it testified to Bakiev's willingness to compromise with his opponents who only a few days earlier, on April 29, had called thousands of people to a protest in Bishkek to demand his resignation.
Bakiev told RFE/RL's Kyrgyz Service that the reshuffle aims to bring fresh blood into his administration.
"It is normal for officials to come and go. Big or small, [a government] position is not somebody's property. When the political situation became tense, [the officials who resigned] immediately told me: 'We have told you before we would like to go. Let the situation stabilize. We are not clinging to our positions.' I said, 'OK,' and we brought in young people."
Presidential Relations
Ever since the demise of Akaev's government, rumors have been circulating in Bishkek about political infighting among the country's new leadership. Such speculation was sustained by reports about growing disagreement between Bakiev and his prime minister, Feliks Kulov.
But Bakiev denied his working relationship with Kulov will falter.
"I am thankful to Kulov. To tell the truth, there are a number of issues in the government and sometimes we cannot manage them all, we fall behind [schedule]. The two of us talk openly about that. I [sometimes] voice criticism, saying 'this hasn't been done yet, look at this, or that,' and so on. But our tandem has served the nation and will continue to do so in the future."
Bakiev did not comment on the killing of Rysbek Akmatbaev, an alleged criminal boss who was recently elected to parliament to replace his slain brother. Akmatbaev was shot dead on May 10 near Bishkek, just hours after the reshuffle that brought changes at the top of the National Security Ministry.
Accusing The PM
Akmatbaev's friends and relatives have been demanding Kulov's resignation, alleging that he may be involved in the killing. In an open letter to Bakiev carried by the independent AKIpress news agency, Akmatbaev's relatives charge that Kulov was targeting the newly elected parliamentarian when he recently urged security agencies to identify "Kyrgyzstan's Enemy Number One."
Akmatabev's slaying has created a new embarrassment for the Kyrgyz president.
After delaying his decision for 24 hours, he finally accepted to meet today with a group of Akmatbaev supporters in Bishkek. In a thinly veiled reference to the protest rallies that took place in Akmatbaev's Issykkul constituency from May 13 to 14, Bakiev reportedly urged them to refrain from any unlawful actions "ahead of the tourist season."
In yet another alarming incident, unidentified gunmen on May 12 attacked Kyrgyz and Tajik border posts, killing a number of government troops and civilians in both countries.
Kyrgyz security forces eventually destroyed the group, which was reportedly made of ethnic Tajik and Uzbek Islamic militants.
On May 15, Tajik authorities said security reinforcements had been dispatched to the border with Kyrgyzstan to prevent a repeat of last week's events. They also said communication between the border guard administrations of both countries will be enhanced -- something that Bakiev told RFE/RL needs improvement.
"If there had been closer ties between the border guard administrations and interior ministries of Kyrgyzstan and Tajikistan, we wouldn't have lost six people," he said. "Four soldiers, one custom official, and one civilian were killed [on the Kyrgyz side]. [With better cooperation], there would not have been such big losses."
Finally, Bakiev defended a decision to try four Uzbek nationals who entered the country in the wake of last year's Andijon military crackdown.
Remnants Of Andijon
"The cases of [those] four Uzbek citizens are now in the court," Bakiev said. "There are many rumors. [Some people say] they committed serious crimes, that they are murderers. This case should be solved in court. If the court does not solve it, we cannot afford to let big criminals, killers, or terrorists, go. On the other hand, if they are innocent, why should we keep them? Then we will [let them go]."
The four -- Zhakhongir Maksudov, Odilzhon Rakhimov, Yakub Toshboev, and Rasulzhon Pirmatov -- have been given refugee status by the United Nations High Commissioner for Refugees. However, all four were arrested in June 2005 on an Uzbek arrest warrant and face possible extradition -- something that has triggered widespread concern among human rights activists.
Rights campaigners last year criticized Bakiev for publicly backing his Uzbek counterpart's claims that the street unrest that led to the Andijon killings was the work of Islamic militants seeking to violently overthrow his secular government.
(The interview was conducted by Tyntchtykbek Tchoroev and Kubat Otorbaev. RFE/RL correspondent Jean-Christophe Peuch contributed to this report.)
Andijon Refugees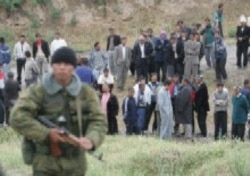 Uzbek refugees in Kyrgyzstan on May 19, 2005 (epa)


NO PLACE TO GO: More than 400 Uzbeks who fled in panic in the hours and days after troops opened fire on demonstrators in Andijon one year ago have been granted political asylum outside Central Asia. In limbo for weeks in Kyrgyzstan as they and the world tried to come to grips with the bloody events of May 12 and 13, they feared for their lives and the lives of family members as the official crackdown continued.... (more)
RELATED ARTICLES
Andijon Refugees In Romania Have Escaped Violence, But Not Heartache
Refugees In Romania Await Decision On Destination
Refugees Want To Return Only If Regime Changes


THE COMPLETE STORY: A dedicated webpage bringing together all of RFE/RL's coverage of the events in Andijon, Uzbekistan, in May 2005 and their continuing repercussions.
CHRONOLOGY
For an annotated timeline of the Andijon events and their repercussions, click here.