Senior Kyrgyz Officials, Ministers Replaced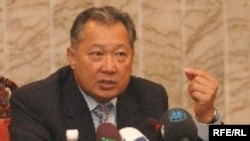 Kyrgyz President Bakiev (file photo) (RFE/RL) May 10, 2006 -- Kyrgyzstan's President Kurmanbek Bakiev today made a series of personnel changes within his government and administration.
He picked his own security adviser, former Prosecutor-General Busurmankul Tabaldiev, to replace Tashtemir Aitbaev as head of the National Security Service. Aitbaev had earlier resigned for reasons that remain unclear.
Bakiev also appointed Deputy Prime Minister Adakham Madumarov to replace outgoing State Secretary Dastan Sarygulov. In a letter sent to Bakiev on May 10, Sarygulov said he had decided to step down for the sake of Kyrgyzstan's stability.
The departure of Aitbaev and Sarygulov had been demanded by opposition leaders who led a large protest rally in Bishkek on April 29.
In other developments, Bakiev appointed Daniyar Usenov as acting first deputy prime minister. Usenov takes over from Medetbek Karimkulov, who in turn was appointed acting industry and trade minister.
(AKIpress, Kabar)

RFE/RL Central Asia Report

SUBSCRIBE For regular news and analysis on all five Central Asian countries by e-mail,
subscribe to "RFE/RL Central Asia Report."