Kyrgyz Legislators Reject Amnesty Proposal, Citing Lawlessness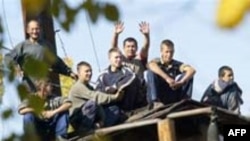 No amnesty (AFP) May 16, 2006 -- The Kyrgyz parliament has rejected a government proposal to pardon some 185 prisoners and reduce the jail terms of another 6,000 convicts.
Justice Ministry officials said the proposed amnesty was designed to lighten the financial and logistical burden represented by Kyrgyzstan's 15,500-strong inmate population.
It singled out inmates serving jail time for non-serious crimes -- reportedly including senior citizens, underage convicts, and pregnant women. The initiative also sought to reduce jail terms of 5,800 people who have already served much of their sentences.
But a majority of lawmakers rejected the idea, citing concerns about rampant criminality in the country. The political opposition has criticized the government over corruption and alleged infiltration of government institutions by organized crime, and recently organized a
major protest
in the capital, Bishkek.
Inmate uprisings
at a number of prisons in Kyrgyzstan in mid-October left several people dead, including a member of parliament who was apparently seeking to help mediate an end to the crisis.
(AKIpress, Kabar)