The parliament met in closed session today for the latest talks on
forming a national-unity government.
Iraq's Shi'a, Sunni
Arabs, and Kurds have been negotiating over the formation of a cabinet
since the December' 15 parliamentary elections.
(AFP, Reuters)
Nuri al-Maliki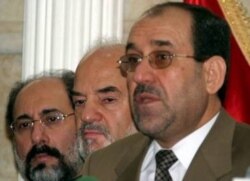 Nuri al-Maliki (epa)

NURI KAMIL AL-MALIKI (Jawad al-Maliki is a nom de guerre) was born in 1950 in the Twayrij al-Hindiyah district of Karbala.
Commonly known as Abu Isra, al-Maliki joined the Islamic Al-Da'wah Party in 1968.
He holds an M.A. in Koran and Arabic Language Studies from Salah al-Din University in Irbil.
Following a crackdown on outlawed parties by the regime of Saddam Hussien, al-Maliki fled the country in 1980, seeking asylum first in Iran and later in Syria.
While in Syria, he also published a magazine -- "Al-Mawqif" ("The Attitude") -- that became the mouthpiece of the Islamic Al-Da'wah Party.
For several years, al-Maliki served as the head of jihad and military operations for the party, subsequently becoming a member of its political bureau.
Following the liberation of Iraq, he served as deputy director of the de-Ba'athification commission established by the Coalition Provisional Authority.
In 2004, al-Maliki was elected deputy speaker of the interim National Assembly.
He played a leading role in settling the August 2004 crisis in Al-Najaf when supporters of Shi'ite cleric Muqtada al-Sadr battled coalition forces for three weeks.
In 2005, he served as chairman of the transitional National Assembly's Security and Defense Committee. He was also a member of the committe responsible for drafting Iraq's new constitution.
He has also served as a spokesman for transitional Prime Minister Ibrahim al-Ja'fari and as spokesman for the United Iraqi Alliance.
More about al-Maliki:
Premier-Designate Promises Tough Approach
Tough Challenges Face New Prime Minister


THE COMPLETE PICTURE: Click on the image to view RFE/RL's complete coverage of events in Iraq and that country's ongoing transition.