Former Ukrainian Governor Fights U.S. Deportation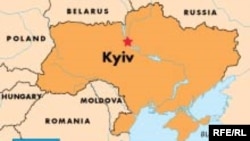 (RFE/RL) May 19, 2006 -- A former Ukrainian governor arrested in Florida last year has asked a judge to halt his deportation.
Volodymyr Shcherban was accused of extortion and abuse of power in the Ukraine's tumultuous 2004 election after he entered the United States in April 2005.
The U.S. State Department has also alleged that Shcherban was responsible for a 2004 attack on students protesting the merger of three colleges in Sumy, where he was governor.
The lawsuit filed on May 18 alleges U.S. officials have violated Shcherban's rights and failed to verify alleged charges against him.
(AP

An archive of RFE/RL's reporting and analysis on Ukraine's Orange Revolution.
REVOLUTION IN THE AIR: Listen to an audio portrait of the Orange Revolution from RFE/RL's archives.
Real Audio Windows Media