EU Enlargement Likely To Slow Down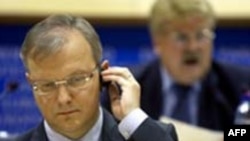 EU Enlargement Commissioner Olli Rehn (file photo) (AFP) May 19, 2006 -- The man responsible for overseeing the European Union's enlargement says the bloc's expansion will slow down after Romania and Bulgaria join, a move expected in the next year or two.
Enlargement Commissioner Olli Rehn said in a speech today that no more new members were likely until after reforms of the EU, which are expected to take place in 2009.
Rehn speculated that Iceland, which is not yet a candidate, could join ahead of Croatia.
(Reuters)