Incoming Prime Minister Nuri Kamil al-Maliki, a Shi'a, said he will temporarily run Iraq's Interior Ministry. He named Deputy Prime Minister-designate Salam al-Zawba'i, a Sunni, as temporary defense minister.
Barham Salih, a Kurd, was named acting minister of national security affairs.
Some Sunni lawmakers walked out of parliament upon hearing that permanent security ministers would not be selected at the session.
Among other key posts, the assembly approved former deputy parliament speaker Husaynn al-Shahristani, a Shi'a, as oil minister. Foreign Minister Hoshyar Zebari, a Kurd, will stay in his post.
Al-Maliki also highlighted 34 policy priorities for his government, focusing on security and the economy.
Forming the cabinet took months of negotiations between the country's main religious and ethnic groups following the December 15 parliamentary elections.
Today's special session took place as at least 24 Iraqis were killed in bomb attacks around the country.
(compiled from agency reports)
Nuri al-Maliki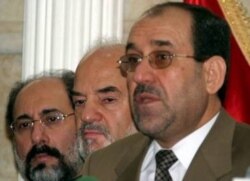 Nuri al-Maliki (epa)

NURI KAMIL AL-MALIKI (Jawad al-Maliki is a nom de guerre) was born in 1950 in the Twayrij al-Hindiyah district of Karbala.
Commonly known as Abu Isra, al-Maliki joined the Islamic Al-Da'wah Party in 1968.
He holds an M.A. in Koran and Arabic Language Studies from Salah al-Din University in Irbil.
Following a crackdown on outlawed parties by the regime of Saddam Hussien, al-Maliki fled the country in 1980, seeking asylum first in Iran and later in Syria.
While in Syria, he also published a magazine -- "Al-Mawqif" ("The Attitude") -- that became the mouthpiece of the Islamic Al-Da'wah Party.
For several years, al-Maliki served as the head of jihad and military operations for the party, subsequently becoming a member of its political bureau.
Following the liberation of Iraq, he served as deputy director of the de-Ba'athification commission established by the Coalition Provisional Authority.
In 2004, al-Maliki was elected deputy speaker of the interim National Assembly.
He played a leading role in settling the August 2004 crisis in Al-Najaf when supporters of Shi'ite cleric Muqtada al-Sadr battled coalition forces for three weeks.
In 2005, he served as chairman of the transitional National Assembly's Security and Defense Committee. He was also a member of the committe responsible for drafting Iraq's new constitution.
He has also served as a spokesman for transitional Prime Minister Ibrahim al-Ja'fari and as spokesman for the United Iraqi Alliance.
More about al-Maliki:
Premier-Designate Promises Tough Approach
Tough Challenges Face New Prime Minister


THE COMPLETE PICTURE: Click on the image to view RFE/RL's complete coverage of events in Iraq and that country's ongoing transition.