U.S. 'Not Asked' For Iran Security Guarantee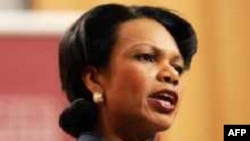 Condoleezza Rice (file photo) (AFP) May 21, 2006 -- U.S. Secretary of State Condoleezza Rice says the United States' European allies have  not  asked Washinton to provide any security guarantees to Iran if it gives up its uranium-enrichment program.
Rice's comment on U.S. television today comes amid reports that the EU-3, Germany, Great Britain, and France, are seeking to include such a guarantee in an incentives package they are preparing for Iran.
Rice did not say if the United States would be willing to provide a security guarantee in the event that Tehran complies on the nuclear issue. U.S. officials have previously rejected the idea.
In Tehran, Foreign Ministry spokesman Hamid Reza Assefi again said Iran will not give up uranium enrichment.
(Reuter)

THE COMPLETE PICTURE: RFE/RL's complete coverage of controversy surrounding Iran's nuclear program.
CHRONOLOGY
An
annotated timeline
of Iran's nuclear program.