Chechen Jailed For 12 Years For 1995 Raid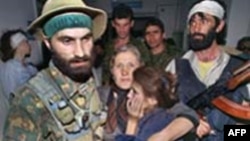 Shamil Basayev pictured during the Budyonnovsk raid in 1995 (AFP) May 22, 2006 -- A Russian court has sentenced a Chechen militant to 12 years in prison over a hostage-taking raid in the southern Russian city of Budyonnovsk in 1995.
Nur-Magomed Khatuyev was arrested last year in Belarus.
More than 20 suspects have been convicted so far for involvement in the raid on the Budyonnovsk hospital by a group of militants led by separatist commander Shamil Basayev.
Nearly 150 people died in the incident.
(RIA Novosti, Interfax)



RFE/RL's complete coverage of Russia's war-torn Republic of Chechnya.
CHRONOLOGY
An
annotated timeline
of the Chechnya conflict.