Two Chechen Rebels Given Life Sentences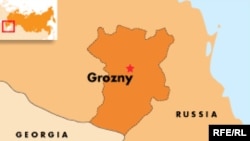 (RFE/RL) PRAGUE, April 11, 2006 (RFE/RL) -- The Supreme Court of Russia's southern republic of Chechnya has sentenced two separatist fighters to life in prison.
The Russian Prosecutor-General's Office says Islam Tukhashev and Yakub Bidiyev were convicted on terror-related charges on April 10.
Russian media say the two men were arrested in Daghestan in 2004. They also identify Bidiyev as a trustworthy subordinate of radical Chechen field commander Shamil Basayev.



RFE/RL's complete coverage of Russia's war-torn Republic of Chechnya.
CHRONOLOGY
An
annotated timeline
of the Chechnya conflict.