Two Jailed For Attacks On Ingush Police In 2004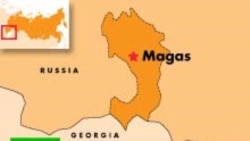 April 7, 2006 -- The Supreme Court in the southern Russian republic of Ingushetia today convicted two residents of the neighboring republic of Kabardino-Balkaria for their involvement in attacks on Ingush law-enforcement agencies two years ago.
Dmitry Kurichev was sentenced to 10 years in prison. Rustam Kurozokov received a nine-year jail term.
Seventy-nine people were killed and more than 100 wounded in the series of raids in June 2004.
Russian officials say the assailants were linked to separatist fighters in Chechnya.
More than 20 other people from Ingushetia, Chechnya, and Kabardino-Balkaria have been sentenced to prison terms of up to 25 years for their role in the attacks.
(Interfax, ITAR-TASS)



RFE/RL's complete coverage of Russia's war-torn Republic of Chechnya.
CHRONOLOGY
An
annotated timeline
of the Chechnya conflict.