Bomb Explodes In Ingushetia; No Casualties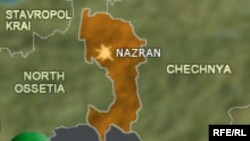 (RFE/RL) April 2, 2006 -- Russian news agency say a homemade bomb exploded in the Ingush city of Nazran, but there were no casualties.
The ITAR-TASS news agency reports the bomb exploded near the city center next to a monument honoring Idris Zyazikov, a Soviet-era leader of Ingushetia.
The explosion damaged the monument and shattered windows of nearby buildings.
Correspondents say Ingushetia is regularly rocked by violent attacks, many of which are claimed by Islamist militants and are linked to an ongoing separatist war in Chechnya.
(AFP)


RFE/RL's complete coverage of Russia's war-torn Republic of Chechnya.
CHRONOLOGY
An
annotated timeline
of the Chechnya conflict.