The ruling comes after a jury outside Chechnya acquitted four Russian commandoes accused of killing six Chechen civilians.
The acquittal of Captain Eduard Ulman and three subordinates sparked public outrage in Chechnya, where rights advocates and many Chechens say Russian forces act with impunity.
Chechen President Alu Alkhanov turned to the Constitutional Court to rule on the legality of Ulman's jury trial. The case has been appealed and will now be heard by a military tribunal.
Trial by jury is to be introduced in Chechnya next year.
(ITAR-TASS, Interfax, AP)

The Chechnya Conflict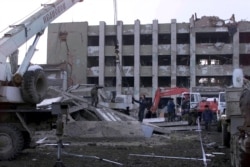 The aftermath of a December 2002 Chechen resistance attack on the main government building in Grozny (epa)


CHRONOLOGY
The
fighting in Chechnya
has raged, with short breaks, since 1994. It has brought misery, death, and destruction to the North Caucasus republic and to Russia as a whole. View an
annotated timeline
of the conflict.

ARCHIVE
RFE/RL's complete coverage of Russia's war-torn Republic of Chechnya.