Romania Returns 'Dracula's Castle' To Royal Family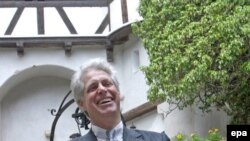 Dominic von Habsburg celebrates the restitution of Bran Castle (epa) May 26, 2006 -- Romania today returned a medieval fortress to Dominic von Habsburg, heir to the 1920s rulers of Romania, King Ferdinand and Queen Maria.
Bran Castle is one of the first prominent properties given back by the Bucharest government under the country's property-restitution law.
The fortress is also known as Dracula's Castle, although it does not feature in Bram Stoker's novel "Dracula." It is not clear whether the man whose life inspired the book, 15th-century ruler Vlad Tepes, or Vlad the Impaler, ever set foot in the castle.
(Reuters, Mediafax)