U.S. Journalists Among At Least 37 Killed In Iraq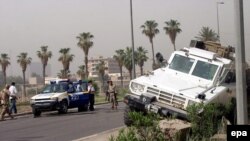 Iraqi security forces secure the site of a roadside bombing in early May (file photo) (epa) May 29, 2006 -- At least 37 people were today killed in a series of bombings in Iraq, including two journalists working for the U.S. television network CBS.
A third CBS correspondent was seriously injured when the U.S. military unit in which they were embedded was targeted in a roadside bomb attack.
In other violent incidents, eleven people died when a roadside bomb hit a bus in the town of Khalis, north of Baghdad. The victims worked at a base of an Iranian opposition group known as the Mujahedin Khalq Organization.
In the capital's northern, mostly Sunni district of Adhamiya, a car bomb exploded near a school, killing at least eight people.
Another nine people died in Adhamiya when a car bomb exploded near a mosque.
In a mainly Shi'ite district of Baghdad, Al-Kazimiyah, at least seven people were killed by a car bomb placed at the entrance to an open-air market.
(compiled from agency reports)


SUBSCRIBE For weekly news and analysis on Iraq by e-mail,
subscribe to "RFE/RL Iraq Report."