The party, the biggest vote winner in Ukraine's March parliamentary elections, said the arrival of the "USS Advantage" at the port of Feodosiya on May 27 violated the constitution. It demanded that officials who allowed it be punished.
At least one other small pro-Russian party also protested the ship's arrival. Demonstrators picketed the entrance to the port.
The vehicles and supplies unloaded by the "USS Advantage" had been intended for use in joint training exercises between NATO and Ukraine next month.
Government officials said the protests were groundless and a provocation.
"This is technical aid to Ukraine under an agreement between the Ukrainian Defense Ministry and the U.S. Defense Department. They agreed to bring [construction materials] to Ukraine at their own expense, build facilities here, and leave them at our shooting ranges for decades," Ukrainian Defense Minister Anatoliy Hrytsenko said. "Any attempt to politicize [this visit] is cheap politics."
("Ukrayinska pravda," Interfax-Ukraine, UNIAN)

Russia And The West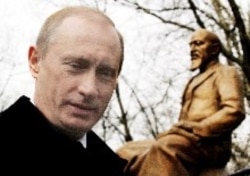 (epa)
COOPERATION, CONFLICT, CONFRONTATION: Relations between Russia and the West are notoriously volatile. "To see the kind of relationship that presidents Bush and Putin have developed and to see Russia firmly anchored in the West, that's really a dream of 300 years, not just of the post-Cold War era," then-national security adviser Condoleezza Rice said in May 2002.
But observers have increasingly called into question the extent of the shared values between Russia and the West, particularly on issues relating to the transformations going on in other former Soviet countries.
RELATED ARTICLES
Silent Diplomacy Versus Public Criticism
Analysts Say New Arms Race Unlikely
Moscow 'Unhappy' With Outcome Of CFE Conference
Moscow And Washington Spar Over WTO Membership
Russia Gears Up To Improve Its Image Abroad
Experts Urge U.S. To Rethink Relations With Russia
U.S. Official Says Russian NGO Law Part Of Antidemocratic Trend
ARCHIVE
To view an archive of RFE/RL's coverage of Russia, click here; to view an archive of RFE/RL's coverage of U.S.-Russian relations, click here.

SUBSCRIBE
For news and analysis on Russia by e-mail, subscribe to "RFE/RL Russia Report."