PRAGUE, May 30, 2006 (RFE/RL) -- The Atomic Energy Organization official, Mr. Sadat-Hosseini, said in Tehran that his country is "competing with the advanced world" in seeking to produce energy from nuclear fusion.
The statement came as a surprise in the midst of the grave international dispute over Iran's nuclear fuel-enrichment program, which the United States claims is part of a plan to develop nuclear weapons.
"In theory it does, but [a fusion bomb] is so far advanced from a rudimentary initial bomb that I presume Iran intends as its first stage, that a fusion bomb is just not in the picture."
Fusion Also Used For Bombs
Sadat-Hosseini's comment drew immediate media attention, because fusion is a technique used to create the explosion in a hydrogen bomb -- a far more powerful device than the fission atomic bomb.
In comparing fusion with fission, the basic difference is that fission produces energy by splitting the atom. Fusion, on the other hand, fuses atoms together, which give off surplus energy as they combine.
One of the most daunting challenges is that the particles must be heated up to 100 million degrees Celsius to produce the fusing process. But if that process can be sustained reliably, fusion is a generous source of energy, with one kilogram of fusion fuel producing the same as some 10 million kilograms of fossil fuel.
Another advantage of fusion over fission is that it leaves little radioactive residues, one of the main hazards which have caused the public to turn against civilian nuclear power.
Not Viable In Near Future
Although fusion has been achieved on a small scale for very short periods of time, it is far from ready to serve as a civil energy source. Experts say it needs another 30 to 50 years to become a practical tool -- if it ever does.
So what is Tehran's interest in this process?
Stephan Slingerland, of the Clingendahl Energy Program research center in the Netherlands, dismisses the Iranian references to nuclear fusion as "pure political pose."
"Nuclear fusion has been a subject for research for decades already, by the whole international community jointly, having spent billions of dollars, so I don't think that there is a possibility that one individual country could, in a short time, achieve a breakthrough in nuclear fusion," he said.
Experts within the nuclear milieu say the fact that Iran is working on fusion is no surprise. As long ago as 1999, Iran tried to buy a small fusion reactor from the Canadian Center for Fusion Magnetics in Montreal, when the Canadian government closed down that facility.
Another nuclear expert, Mark Fitzpatrick of the London-based International Institute for Strategic Studies, says the motive behind Sadat-Hosseini's statement is Iran's desire to display technical achievement.
Why Fusion, Why Now?
"It is part of an effort both to demonstrate for domestic consumption their technological prowess and to build an image of a country that is far along in nuclear technology, so as to persuade the rest of the world that they cannot be rolled back to zero in terms of stopping their [uranium] enrichment program," Fitzpatrick said.
Fitzpatrick says there is no technical link between fusion and uranium enrichment, adding that the link is political in that Iran is saying "look how far along we are."
So what about the military possibilities of fusion technology: is Iran perhaps seeking to bypass the enrichment row and instead take a fusion bomb route?
Fitzpatrick says that technologically it "just doesn't make sense."
"In theory it does, but [a fusion bomb] is so far advanced from a rudimentary initial bomb that I presume Iran intends as its first stage, that a fusion bomb is just not in the picture," he added.
The experts from within the nuclear milieu likewise say that making a hydrogen bomb would be five giant steps technically beyond making a fission bomb, and is therefore not presently an issue, insofar as Iran is estimated to be some years away from being capable of producing a fission atomic bomb.
What Would Sanctions Mean?
What Would Sanctions Mean?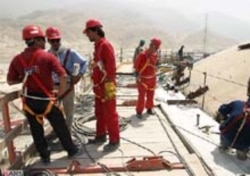 Economic sanctions could further undermine Iran's already shaky economy (Fars)


MOVING TOWARD SANCTIONS: If the United Nations Security Council imposes sanctions on Iran, domestic support for Iranian President Mahmud Ahmadinejad will wane, according to ALEX VATANKA, Eurasia editor for Jane's Information Group.
Vatanka told a February 24 RFE/RL briefing that "economic sanctions will hurt the average Iranian" and, consequently, many "will blame the ruling clerics" for making life difficult and "impairing the country's long term development."
Vatanka said sanctions would be a serious challenge to the Iranian government. If harsh economic sanctions were imposed, Iran's poorest population will be hurt the hardest -- and might react "as they did in the 1970s and protest in the streets." Sanctions on travel, Vatanka said, would hurt a many Iranians because "Iran is a nation of small traders" who depend on the ability to travel to earn an income. According to Vatanka, unemployment in Iran is estimated at 30 percent, "so small trading is essential to survival." Although current U.S. sanctions "haven't worked," he said, "Iranians fear an oil embargo." He stressed that "oil revenues are a major part of the economy, so it is critical to look at this sector."
Should negotiations with the European Union and the UN fail, Vatanka believes that Iran would follow a "North Korea model," since Ahmadinejad's base of support among the "Islamist militias" has been "urging withdrawal from the NPT [Nuclear Non-Proliferation Treaty]." The Iranian government's "tactic" so far, Vatanka said, is governed by the belief that "by shouting the loudest, you'll get concessions [from the West]."
LISTEN
Listen to the complete panel discussion (about 60 minutes):

Real Audio
Windows Media

THE COMPLETE STORY: RFE/RL's coverage of the controversy surrounding Iran's nuclear program.
CHRONOLOGY
An annotated timeline of Iran's nuclear program.