Moldova To Hold Referendum On Independence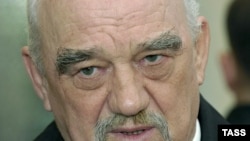 Transniestern leader Igor Smirnov (file photo) (ITAR-TASS) May 31, 2006 -- The leader of Moldova's breakaway region of Transdniester says he will call a referendum by September to decide on the region's independence.
New agencies quote Igor Smirnov as saying the example of Montenegro, which voted for independence from Serbia this month, shows that referendums "are becoming the norm for solving conflicts."
The comments come as the chairman in office of the Organization for Security and Cooperation in Europe (OSCE), Karel De Gucht, is scheduled to meet with Smirnov in Transdniester tomorrow.
Meanwhile today, Russian Defense Minister Sergei Ivanov said Russian peacekeepers will remain in Transdniester. Russia maintains some 1,500 troops in the region, which broke away from Moldova in a 1992 war.
(AP, AFP)
RFE/RL Belarus, Ukraine, And Moldova Report

SUBSCRIBE For weekly news and analysis on Belarus, Ukraine, and Moldova by e-mail,
subscribe to "RFE/RL Belarus, Ukraine, And Moldova Report."