Russian Troops To Stay In Transdniester
Russian peacekeeping forces withdrew some military hardware from Transdniester in 2003 (ITAR-TASS) May 31, 2006 -- Defense Minister Sergei Ivanov today said that Russian peacekeepers will remain in Moldova's breakaway Transdniester region.
Speaking at a meeting of defense ministers from the post-Soviet Commonwealth of Independent States (CIS) in the Azerbaijani capital, Baku, Ivanov accused the United States and NATO of double standards.
He said that the United States and NATO demand that Russia pull out its 1,800 troops in Transdniester, but insist that, in his words, the planned deployment of up to 3,000 U.S. troops at several bases in Bulgaria is "not a significant military presence."
The chairman of the Organization for Security and Cooperation in Europe (OSCE) is due to travel from Moldova to Transdniester on June 1. Belgian Foreign Minister Karel De Gucht is scheduled to hold talks in Tiraspol with the separatist leader, Igor Smirnov.
De Gucht will then head to Ukraine for talks with President Viktor Yushchenko and other top officials.
(Interfax, AP)
ARCHIVE: For an archive of RFE/RL's coverage of Transdniester, click here.
The Transdniester Conflict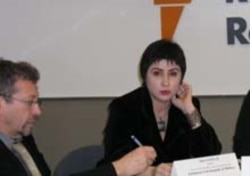 Stela Jantuan, head of the Information, Analysis, and Prognosis Service of the Moldovan parliament (RFE/RL)

FROZEN CONFLICT: On January 11, 2006, RFE/RL's Washington office hosted a panel discussion on prospects for settling the Transdniester conflict. The roundtable featured STEFAN GLIGOR and STELA JANTUAN of the Information, Analysis, and Prognosis Service of the Moldovan parliament and ALEXANDRU FLENCHA, head of the information and analysis division of Moldova's Ministry of Reintegration.
LISTEN
Listen to the complete panel discussion (about 90 minutes):

Real Audio
Windows Media
TALKS CONTINUE. The conflict between the Republic of Moldova and the unrecognized, separatist Transdniester Republic has festered for more than 15 years. A decade of talks supervised by the OSCE, Russia, and Ukraine have stagnated, while allegations mount concerning the involvement of Transdniester separatists in money-laundering and trafficking in arms, drugs, and human beings. What are the current prospects for settling this frozen conflict? (more)
ARCHIVE
An archive of RFE/RL's coverage of Transdniester.