Moldovan, Georgian Separatists Hail New Montenegro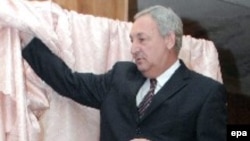 Sergei Bagapsh, leader of the breakaway Georgian region of Abkhazia (file photo) (epa) May 23, 2006 -- The breakaway regions of Abkhazia in Georgia and Transdniester in Moldova have welcomed Montenegro's vote for independence.
Sergei Bagapsh, the president of the self-proclaimed republic of Abkhazia, said Montenegro's vote set a "precedent" that the international community should take into account.
Valery Litskai, the foreign minister of the unrecognized Transdniester government, said the outcome of the May 21 referendum in Montenegro was an occasion for celebration.
(Interfax, AFP)

The Transdniester Conflict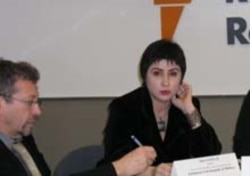 Stela Jantuan, head of the Information, Analysis, and Prognosis Service of the Moldovan parliament (RFE/RL)

FROZEN CONFLICT: On January 11, 2006, RFE/RL's Washington office hosted a panel discussion on prospects for settling the Transdniester conflict. The roundtable featured STEFAN GLIGOR and STELA JANTUAN of the Information, Analysis, and Prognosis Service of the Moldovan parliament and ALEXANDRU FLENCHA, head of the information and analysis division of Moldova's Ministry of Reintegration.
LISTEN
Listen to the complete panel discussion (about 90 minutes):

Real Audio
Windows Media
TALKS CONTINUE. The conflict between the Republic of Moldova and the unrecognized, separatist Transdniester Republic has festered for more than 15 years. A decade of talks supervised by the OSCE, Russia, and Ukraine have stagnated, while allegations mount concerning the involvement of Transdniester separatists in money-laundering and trafficking in arms, drugs, and human beings. What are the current prospects for settling this frozen conflict? (more)
ARCHIVE
An archive of RFE/RL's coverage of Transdniester.