Moldovan Official Says Property Seized By Transdniester Militants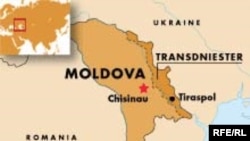 (RFE/RL) April 21, 2006 - The mayor of a port town in Moldova says militia fighters from the breakaway republic of Transdniester today seized control of barges and buildings in a harbor near the Black Sea.
Tudor Serbov, mayor of Varnita, says about 80 militia fighters carried out the attack. He says they detained port managers and forced other employees to leave the area. Serbov says the attackers gave no reason for the action.
Moldova's Reintegration Ministry says some of the attackers advanced over land from the nearby town of Bendery while others crossed the Dniester River in boats.
Interfax reports that Russian troops still stationed in former Soviet republic later took control of the port and were trying to persuade the sides to reach a negotiated agreement about control of the port.
(AP, Reuters, Interfax)
RFE/RL Belarus, Ukraine, And Moldova Report

SUBSCRIBE For weekly news and analysis on Belarus, Ukraine, and Moldova by e-mail,
subscribe to "RFE/RL Belarus, Ukraine, And Moldova Report."