Igor Smirnov said in a letter to Russian President Vladimir Putin that a new customs agreement between Moldova and Ukraine was blocking his region's trade.
Smirnov said that rising tensions with Moldovan authorities over the new rules were threatening to trigger a "humanitarian catastrophe, with growing tensions which could lead to direct confrontations."
He called on Russia, which already has 1,500 troops in the region, to reinforce its military presence in Transdniester.
Ukraine began to implement new customs regulations on March 3 with Moldova, which means that all exports from Transdniester have to be certified by Moldovan authorities.
Ukraine, Moldova, and the European Union said the measures are aimed at curbing rampant smuggling.
(AP)
The Transdniester Conflict
The Transdniester Conflict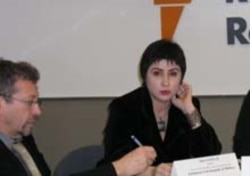 Stela Jantuan, head of the Information, Analysis, and Prognosis Service of the Moldovan parliament (RFE/RL)

FROZEN CONFLICT: On January 11, 2006, RFE/RL's Washington office hosted a panel discussion on prospects for settling the Transdniester conflict. The roundtable featured STEFAN GLIGOR and STELA JANTUAN of the Information, Analysis, and Prognosis Service of the Moldovan parliament and ALEXANDRU FLENCHA, head of the information and analysis division of Moldova's Ministry of Reintegration.
LISTEN
Listen to the complete panel discussion (about 90 minutes):

Real Audio
Windows Media
TALKS CONTINUE. The conflict between the Republic of Moldova and the unrecognized, separatist Transdniester Republic has festered for more than 15 years. A decade of talks supervised by the OSCE, Russia, and Ukraine have stagnated, while allegations mount concerning the involvement of Transdniester separatists in money-laundering and trafficking in arms, drugs, and human beings. What are the current prospects for settling this frozen conflict? (more)
ARCHIVE
An archive of RFE/RL's coverage of Transdniester.