The commission says it condemns any efforts by "the self-proclaimed" Transdniestrian authorities to hamper the legitimate movement of goods across the Ukrainian-Moldovan border.
The EU also condemns Transdniester's attempts to prevent companies from registering with Moldovan authorities, which is a precondition for cross-border trade.
The statement says the measures instituted by Ukraine, in consultation with Moldova, are intended to increase transparency in customs operations, and "do not in any way constitute a blockade."
The Commission also says that a similar arrangement was in place between Ukraine and Moldova from May 2003 until August 2004, and did not lead to any complications.
The statement notes the EU has a border assistance mission present on the ground in Moldova and Ukraine, which constantly monitors the situation.
The Transdniester Conflict
The Transdniester Conflict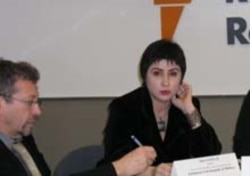 Stela Jantuan, head of the Information, Analysis, and Prognosis Service of the Moldovan parliament (RFE/RL)

FROZEN CONFLICT: On January 11, 2006, RFE/RL's Washington office hosted a panel discussion on prospects for settling the Transdniester conflict. The roundtable featured STEFAN GLIGOR and STELA JANTUAN of the Information, Analysis, and Prognosis Service of the Moldovan parliament and ALEXANDRU FLENCHA, head of the information and analysis division of Moldova's Ministry of Reintegration.
LISTEN
Listen to the complete panel discussion (about 90 minutes):

Real Audio
Windows Media
TALKS CONTINUE. The conflict between the Republic of Moldova and the unrecognized, separatist Transdniester Republic has festered for more than 15 years. A decade of talks supervised by the OSCE, Russia, and Ukraine have stagnated, while allegations mount concerning the involvement of Transdniester separatists in money-laundering and trafficking in arms, drugs, and human beings. What are the current prospects for settling this frozen conflict? (more)
ARCHIVE
An archive of RFE/RL's coverage of Transdniester.