Tensions Rise After Ukraine Imposes Limits On Transdniester Goods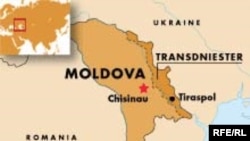 (RFE/RL) March 6, 2006 -- Tensions were rising today on Ukraine's unofficial border with Moldova's breakaway region of Transdniester, after Ukrainian authorities effectively banned the import of Transdniestrian goods.
Ukraine on March 3 made illegal the import of Transdniestrian goods that have not been cleared by Moldovan customs.
Today, Ukrainian troops placed tire barriers and armed checkpoints at border crossings, and were inspecting all traffic as hundreds of vehicles lined up at the border.
Transdniester's separatist leader, Igor Smirnov, on March 5 accused Ukraine of siding with Moldova in the dispute between Moldova and its Russian-speaking breakaway region.
Russia's Foreign Ministry called on Ukraine to review the new customs regime, which it said was causing an "escalation of tensions."
(Interfax, dpa)
RFE/RL Belarus, Ukraine, And Moldova Report

SUBSCRIBE For weekly news and analysis on Belarus, Ukraine, and Moldova by e-mail,
subscribe to "RFE/RL Belarus, Ukraine, And Moldova Report."