Moldova's government has stepped up calls for the withdrawal of about 1,500 Russian troops still deployed in Russian-speaking, breakaway region of Transdniester. Though communist, the government has recently turned toward the West.
Putin, speaking at a Kremlin ceremony during which several new foreign ambassadors presented their credentials, said Russia is "hardly satisfied" with its bilateral relations with Moldova.
Transdniester seceded from Moldova in 1990, and the two sides fought a short but bloody war in 1992, which left at least 1,000 people dead. The conflict was stifled by Russian troops stationed in Transdniester.
(Flux, AP, ITAR-TASS, Interfax)
The Transdniester Conflict
The Transdniester Conflict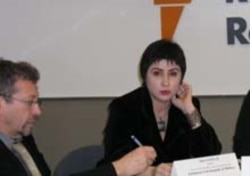 Stela Jantuan, head of the Information, Analysis, and Prognosis Service of the Moldovan parliament (RFE/RL)

FROZEN CONFLICT: On January 11, 2006, RFE/RL's Washington office hosted a panel discussion on prospects for settling the Transdniester conflict. The roundtable featured STEFAN GLIGOR and STELA JANTUAN of the Information, Analysis, and Prognosis Service of the Moldovan parliament and ALEXANDRU FLENCHA, head of the information and analysis division of Moldova's Ministry of Reintegration.
LISTEN
Listen to the complete panel discussion (about 90 minutes):

Real Audio
Windows Media
TALKS CONTINUE. The conflict between the Republic of Moldova and the unrecognized, separatist Transdniester Republic has festered for more than 15 years. A decade of talks supervised by the OSCE, Russia, and Ukraine have stagnated, while allegations mount concerning the involvement of Transdniester separatists in money-laundering and trafficking in arms, drugs, and human beings. What are the current prospects for settling this frozen conflict? (more)
ARCHIVE
An archive of RFE/RL's coverage of Transdniester.