Russia and the breakaway Moldovan region of Transdniester, which is directly affected by the new rules, have accused Kyiv of trying to pressure Transdniester, said Oleksandr Yegorov.
Moldova, meanwhile, complained that Kyiv has taken too long to enforce the new procedures.
With growing pressure from Moldova and the European Union to restore order to the border area, Ukraine on March 3 imposed new rules that now require all cargo to be cleared by Moldovan customs officers.
Yegorov that 14 automobiles and 13 train cars had been delayed at the crossing point, and at least eight were sent back to Transdniester. He added that Moldova was not letting through any vehicles that did not have proper customs stamps.
An EU mission has been trying to help Ukraine and Moldova restore order with Transdniester, a mostly Slavic, Russian-speaking region that broke away from Moldova in 1992 after a short war that left about 1,500 people dead.
Russia maintains a 1,800-strong military presence in the region. Ukrainian President Viktor Yushchenko has tried to increase his country's role in seeking a peaceful settlement.
The Foreign Ministry of Transdniester's unrecognized government slammed the new custom rules as a sign that Ukraine was "siding with one of the parties." Russia's Foreign Ministry called the move "another attempt to put economic pressure" on Transdniester "to force it to give up its political stand."
(compiled with agency reports)
The Transdniester Conflict
The Transdniester Conflict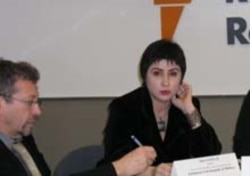 Stela Jantuan, head of the Information, Analysis, and Prognosis Service of the Moldovan parliament (RFE/RL)

FROZEN CONFLICT: On January 11, 2006, RFE/RL's Washington office hosted a panel discussion on prospects for settling the Transdniester conflict. The roundtable featured STEFAN GLIGOR and STELA JANTUAN of the Information, Analysis, and Prognosis Service of the Moldovan parliament and ALEXANDRU FLENCHA, head of the information and analysis division of Moldova's Ministry of Reintegration.
LISTEN
Listen to the complete panel discussion (about 90 minutes):

Real Audio
Windows Media
TALKS CONTINUE. The conflict between the Republic of Moldova and the unrecognized, separatist Transdniester Republic has festered for more than 15 years. A decade of talks supervised by the OSCE, Russia, and Ukraine have stagnated, while allegations mount concerning the involvement of Transdniester separatists in money-laundering and trafficking in arms, drugs, and human beings. What are the current prospects for settling this frozen conflict? (more)
ARCHIVE
An archive of RFE/RL's coverage of Transdniester.