A decree signed by Igor Smirnov, the president of the unrecognized government, says the ban was imposed because foreign financing poses a threat to Transdniester's internal security.
The order bans both financial and material assistance from abroad, and also makes it illegal for Transdniestrian NGOs to receive funding from anonymous sources. Reports say about one dozen human rights groups working in Transdniester with funding from Western governments and some nationalist groups backed by Moldova will be affected by the ban.
A statement carried by the separatist government-controlled Olvia-Pres news agency said that drastic restrictions on pro-democracy NGOs have already taken effect "with good results" in Belarus and Russia.
(dpa, Interfax)
The Transdniester Conflict
The Transdniester Conflict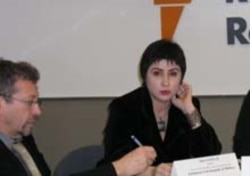 Stela Jantuan, head of the Information, Analysis, and Prognosis Service of the Moldovan parliament (RFE/RL)

FROZEN CONFLICT: On January 11, 2006, RFE/RL's Washington office hosted a panel discussion on prospects for settling the Transdniester conflict. The roundtable featured STEFAN GLIGOR and STELA JANTUAN of the Information, Analysis, and Prognosis Service of the Moldovan parliament and ALEXANDRU FLENCHA, head of the information and analysis division of Moldova's Ministry of Reintegration.
LISTEN
Listen to the complete panel discussion (about 90 minutes):

Real Audio
Windows Media
TALKS CONTINUE. The conflict between the Republic of Moldova and the unrecognized, separatist Transdniester Republic has festered for more than 15 years. A decade of talks supervised by the OSCE, Russia, and Ukraine have stagnated, while allegations mount concerning the involvement of Transdniester separatists in money-laundering and trafficking in arms, drugs, and human beings. What are the current prospects for settling this frozen conflict? (more)
ARCHIVE
An archive of RFE/RL's coverage of Transdniester.