PRAGUE, March 9, 2006 (RFE/RL) -- Ukrainian Prime Minister Yuriy Yekhanurov declared in Kyiv on March 6 that Ukrainian customs officers will now be giving free passage across Ukraine only to those Transdniestrian shipments that have a stamp from Moldovan customs.
The rules had been enacted three days earlier, and Yekhanurov noted that Ukraine had given Transdniester notice of the change in February. Still, he acknowledged with some surprise and disappointment, Tiraspol's response to date had been "inadequate."
Moldova Weighs In
Moldovan Prime Minister Vasile Tarlev had comments as well about the new customs rules. Speaking March 6 in Chisinau, Tarlev said the regulations are intended to make Transdniestrian business entities register according the Moldovan law and legalize their external trade activities.
The international community has long been worried by speculation about weapons and drugs smuggling across the porous Ukrainian-Transdniestrian border.
At the same time, Tarlev denied Tiraspol's assertion that the Ukrainian move is an economic blockade of Transdniester that was planned in collusion with Moldova.
"There was no economic blockade of the Transdniester region. There was not, is not, and will not be [a blockade]," Tarlev said. "The Moldovan government is not interested in an economic blockade of its citizens, and we want to live in peace and prosperity together with our brothers and fellow citizens from this region."
Moscow -- whose political and economic support is critical to Transdniester's survival -- seems to take a similar view to Tiraspol on the situation on the Ukrainian-Transdniestrian border.
Russian Foreign Minister Sergei Lavrov suggested as much on March 6, during his official visit to Canada, saying: "What is taking place there, according to our information, looks like an economic blockade. If this really is the case, urgent measures are needed, of course, to stop this blockade."
Moscow, however, has apparently not yet made any decision regarding Transdniester. On March 7 it sent an expert group to Tiraspol to study the situation.
The European Union, by contrast, welcomed the new customs rules. EU foreign policy chief Javier Solana praised the move on March 6, an endorsement that was echoed by Adrian Jakobovits de Szeged, the EU representative for Moldova, in an interview with RFE/RL's Romania/Moldova Service.
"We think that the implementation of the declaration of [the Ukrainian and Moldovan] prime ministers is very important for introducing order on the border, and we fully support putting this declaration into practice," de Szeged said.
Murky Situation At The Border
Last October, following a request from Kyiv and Chisinau, the EU launched a two-year border assistance mission in Ukraine, sending some 50 experts to monitor the comings and goings on the Ukrainian-Moldovan frontier. It cannot be ruled out that Kyiv's new customs rules for Transdniester are a direct result of the mission's findings.
The international community has long been worried by speculation about weapons and drugs smuggling across the porous Ukrainian-Transdniestrian border. While such rumors have never been confirmed, there is ample evidence that smuggling of other commodities and transit-related swindles are rife there.
These practices apparently benefit not only Transdniester, but also people on the other side of the border as well. Transdniester leader Smirnov suggested as much on March 6, when he called on Kyiv to reconsider its new customs controls.
"We urge Ukraine to assess the political consequences of this decision and prevent a large-scale social and economic catastrophe, which will also affect hundreds of thousands of Ukrainian citizens," Smirnov said.
It is not clear what exactly Smirnov had in mind, but it is likely that he was referring to a trade scheme in which shipments of Ukrainian goods in the port of Odesa are declared as being bound for Transdniester and not taxed in Ukraine. Transdniestrian authorities then confirm receipt, but then often reroute the goods back to Ukraine -- a strategy that earns big profits for Ukrainian trade operators and their Transdniestrian partners.
Timing Is Everything
So why has Kyiv decided to put a stop to illegal transit from Transdniester?
One of the reasons seems to be Ukrainian President Viktor Yushchenko's ambition for his country to join the World Trade Organization (WTO) as soon as this year. On March 6, his government made a significant step forward in this regard by signing a protocol on mutual access to commodity and services markets with the United States.
The new customs controls have obviously hit Tiraspol hard, prompting the region's leader, Igor Smirnov, to announce that Transdniester will withdraw from international talks on the settlement of its conflict with Moldova.
On March 8, Kyiv scored an additional victory when the U.S. House of Representatives passed a bill permanently exempting Ukraine from trade restrictions imposed under the 1974 Jackson-Vanik amendment, which ties trade status to the rights of Jews to emigrate.
Moldova has been a WTO member since 2001. Chisinau may have suggested to Kyiv that Moldova would give a final "yes" to Ukrainian accession to the WTO only once Yushchenko took steps to halt Transdniestrian transit to Russia.
An Eye On Elections
The second reason may be the upcoming parliamentary elections in Ukraine on March 26, in which forces backing Yushchenko are facing not only his old pro-Russian rival, former Premier Viktor Yanukovych, but also his erstwhile ally, former Premier Yuliya Tymoshenko.
Tymoshenko has repeatedly slammed Yushchenko for yielding to pressure from Moscow and accepting a higher price for gas supplies in 2006. It is not unlikely that, by taking a tough stance on the Russia-backed Transdniestrian regime, Yushchenko is trying to reclaim his reputation as a firm leader and recapture as many nationalist-minded voters from Tymoshenko as possible.
Whatever the real motives behind Kyiv's latest move regarding Transdniester, the new customs controls have obviously hit Tiraspol hard and taken the secessionist regime by surprise. Transdniestrian leader Smirnov could apparently find no strong threats to level in response to the move other than to announce that Transdniester will withdraw from the internationally mediated talks on the settlement of its conflict with Moldova.
"Under these conditions, all negotiations are called off," Smirnov said. "Besides, Ukraine is becoming the main tool in helping Moldova reach its political [aims]."
But as with many times in the past, it seems that it is Moscow -- and not Tiraspol or anyone else -- that will eventually decide whether Transdniester is to continue talks, and with whom.
(RFE/RL's Romania/Moldova Service contributed to this report.)
The Transdniester Conflict
The Transdniester Conflict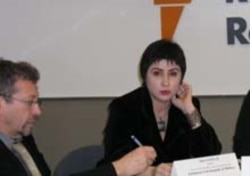 Stela Jantuan, head of the Information, Analysis, and Prognosis Service of the Moldovan parliament (RFE/RL)

FROZEN CONFLICT: On January 11, 2006, RFE/RL's Washington office hosted a panel discussion on prospects for settling the Transdniester conflict. The roundtable featured STEFAN GLIGOR and STELA JANTUAN of the Information, Analysis, and Prognosis Service of the Moldovan parliament and ALEXANDRU FLENCHA, head of the information and analysis division of Moldova's Ministry of Reintegration.
LISTEN
Listen to the complete panel discussion (about 90 minutes):

Real Audio
Windows Media
TALKS CONTINUE. The conflict between the Republic of Moldova and the unrecognized, separatist Transdniester Republic has festered for more than 15 years. A decade of talks supervised by the OSCE, Russia, and Ukraine have stagnated, while allegations mount concerning the involvement of Transdniester separatists in money-laundering and trafficking in arms, drugs, and human beings. What are the current prospects for settling this frozen conflict? (more)
ARCHIVE
An archive of RFE/RL's coverage of Transdniester.