The regulations require all cargo to be cleared by Moldovan customs officers. Ukraine says the European Union-backed regulations are aimed at curbing illegal trade.
The Duma, in a resolution adopted on March 10, says Moldova has effectively imposed economic sanctions on its breakaway republic of Transdniester by introducing the new rules with Ukraine. It says the regulations are aimed at putting political pressure on Transdniester's separatist authorities.
"The actions of the Ukrainian-Moldovan side regarding Transdniester have neither economic nor political justification, but they are aggravating the situation in the region," the Duma's first deputy speaker, Oleg Morozov, said.
Transdniester, which is inhabited largely by ethnic Russians and Ukrainians, broke away from Moldova in the early 1990s. Russia maintains some 1,800 troops in the region.
In a declaration passed on March 9, Moldova's parliament said Transdniester's unrecognized government bears responsibility for the "artificial escalation of tensions."
(Interfax, ITAR-TASS)
The Transdniester Conflict
The Transdniester Conflict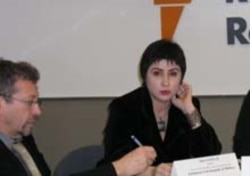 Stela Jantuan, head of the Information, Analysis, and Prognosis Service of the Moldovan parliament (RFE/RL)

FROZEN CONFLICT: On January 11, 2006, RFE/RL's Washington office hosted a panel discussion on prospects for settling the Transdniester conflict. The roundtable featured STEFAN GLIGOR and STELA JANTUAN of the Information, Analysis, and Prognosis Service of the Moldovan parliament and ALEXANDRU FLENCHA, head of the information and analysis division of Moldova's Ministry of Reintegration.
LISTEN
Listen to the complete panel discussion (about 90 minutes):

Real Audio
Windows Media
TALKS CONTINUE. The conflict between the Republic of Moldova and the unrecognized, separatist Transdniester Republic has festered for more than 15 years. A decade of talks supervised by the OSCE, Russia, and Ukraine have stagnated, while allegations mount concerning the involvement of Transdniester separatists in money-laundering and trafficking in arms, drugs, and human beings. What are the current prospects for settling this frozen conflict? (more)
ARCHIVE
An archive of RFE/RL's coverage of Transdniester.