Russia Criticizes Ukraine Customs Rules For Transdniester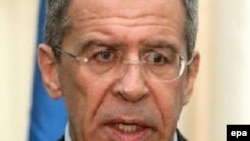 Russian Foreign Minister Sergei Lavrov (file photo) (epa) March 9, 2006 -- Russia's Foreign Minister Sergei Lavrov today criticized new customs rules imposed by Ukraine to tighten its border with Moldova's breakaway region of Transdniester.
Lavrov said the rules, which require all cargo to be cleared by Moldovan customs officers, violate a 1997 agreement between the Moldovan government and Transdniester allowing the separatist region to pursue its own trade relations.
Ukraine has instituted the new regulations last week amid apparent pressure from the European Union, saying the rules were aimed at curbing illegal trade. The EU is concerned about reported smuggling via Transdniester.
Moldova, who has no control over the border posts between Transdniester and Ukraine, has long tried to persuade Kyiv to permit Moldovan customs officers to operate on the Ukrainian side of the border to stifle contraband.
Russian-backed Transdniester seceded from Moldova in 1990. Russia maintains some 1,800 troops in the separatist region.
(AP)
RFE/RL Belarus, Ukraine, And Moldova Report

SUBSCRIBE For weekly news and analysis on Belarus, Ukraine, and Moldova by e-mail,
subscribe to "RFE/RL Belarus, Ukraine, And Moldova Report."