Transdniester Customs Protests Continue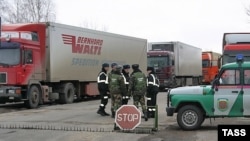 The Ukraine-Moldova border on March 7 (ITAR-TASS) March 10, 2006 -- Protests have been reported in Transdniester over the introduction of tighter border controls by neighboring Ukraine, which shares a 460-kilometer border with the Moldovan breakaway region.
In a bid to cut down on contraband, Ukraine issued the new rules last week. Now all cargo from Transdniester destined for Ukraine requires a customs stamp from the Moldovan government.
But Transdniester officials say the move, backed by the EU, hands control over the region's exports to Moldova.
Local media said thousands turned out in the Transdniester cities of Bendery and Rybnitsa on March 9 to protest the new rules.
The new regulations are reportedly causing chaos with truckers. Scores of trucks were reported backed up on March 9 at Novye Goyani, one of two main border crossing points in Transdniester with Ukraine.
On a fact-finding mission to the region on March 9, the Russian Foreign Ministry's special envoy to the region, Valery Kenyaikin, said the new rules were an attempt "to decide political issues by economic means."
Russia backs the Transdniester government and has peacekeepers stationed there as well.
(AFP)